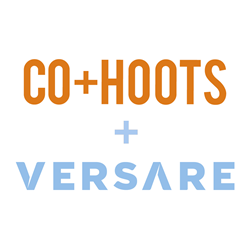 Versare office partitions and acoustic panels help control sound and improve focus and concentration in busy office spaces.
Minneapolis, MN (PRWEB) October 21, 2016
Versare Solutions LLC, a manufacturer and retailer of office room dividers and sound panels, knows the importance of collaboration for young professionals who are working to get their startups off the ground. At the same time, tech designers and future entrepreneurs need privacy, which is why Versare Solutions has partnered with CO+HOOTS Foundation, a community co-working space in Phoenix, Arizona to offer a rentable, self-sustaining office space for young professionals to network and collaborate. Each business is a leader in their respective fields who have come together to make an impact in America's booming startup industry.
Versare Solutions is a sponsor of CO+HOOTS Foundation, providing sound-dampening office dividers and acoustic panels for the foundation's workstations and classrooms. The company is a leader in the portable room divider industry, having worked with a variety of businesses, warehouses and commercial spaces, to offer solutions for busy and loud locations that utilize their space for multiple purposes. When they learned about the innovative steps that CO+HOOTS Foundation was creating for entrepreneurs and small business owners, they knew it was the perfect match for their growing role in turning modern work spaces into interactive and functional offices. Versare Solutions plans to sponsor a variety of CO+HOOTS Foundation events including competitive creation events, tech community outreach and networking events.
For young professionals who are looking for a place where they can collaborate with like-minded business people but still work independently, CO+HOOTS provides a comfortable and innovative office space. With the help of Versare Solutions, professionals can come together on projects, share resources and generate more success. The acoustical panels of Versare's Made-in-the-USA partitions and dividers find common application in schools and offices due to the sound-dampening qualities. Improved focus and concentration is commonly attributed to dampening office noise and murmur. When business owners are ready to set up their own office space, they can continue to use Versare room dividers to fashion multiple rooms, portable cubicles, and sound-dampening dividers to build their ideal business space. Both companies are paving the way in the startup community providing solutions for young professionals to thrive in today's startup industry.
About Versare:
Versare Solutions, Inc. is a Minneapolis-based manufacturer and retailer of portable room dividers, privacy screens, partitions, barricades, and other portable products. Versare handles the manufacturing and shipping of all products directly from their MN headquarters, with most products being built in the USA. Co-founders Robert Jantschek & Jeff Ryan initially created the company to offer a more lightweight, durable, and sturdy room divider than what had previously been found on the market. Their selection of products has grown over the years to include a wide array of portable barricades, configurable office cubicle partitions, economical fabric dividers, and outdoor wicker privacy screens.