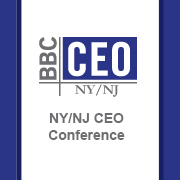 "NY/NJ CEO is one of the best curated meetings I attend. It's a premier opportunity to learn and to network with leaders in one of the most rapidly growing biotech hubs in the country."
New York, NY (PRWEB) October 21, 2016
NY/NJ CEO is an off-the-record networking and educational forum for leading executives in life sciences, offering exclusive access to key decision makers who influence deal making and investment. Attendees gain insights from presentations and panels featuring CEOs from several of the world's leading biopharmaceutical companies. Healthcare and finance investors are also in attendance at this world-class meeting, held November 2nd – 3rd, 2016, at Apella at the Alexandria Center, 450 East 29th Street, New York City.
"This meeting provides a valuable and unique forum to debate market trends and connect with other senior leaders across the biopharma industry in an off-the-record environment." says Francois Nader, former president & CEO, NPS Pharma and chairman of Acceleron Pharma
Panels include Industry Outlook in Election Season, Big Pharma and Biotech Perspectives: Takeaways from the Past Year, Defining the Value of Drugs: A Roadmap for Success, Healthcare Market Dynamics: Predictions for 2017, Accelerating Development by Leveraging Emerging Markets, a Fireside Chat with John Sculley, former CEO of Apple Inc. and PepsiCo and Christoph Westphal, CEO of Flex Pharma, and many more.
"NY/NJ CEO is one of the best curated meetings I attend," says Ron Cohen, President and CEO of Acorda Therapeutics. "It's a premier opportunity to learn and to network with leaders in one of the most rapidly growing biotech hubs in the country." 
The NY/NJ CEO Lifetime Achievement Award will be presented on Thursday, November 3rd at 4:10 pm by Joel Marcus, Alexandria (2015 Honoree), Ron Cohen, Acorda (2013 Honoree) and George Yancopoulos, Regeneron (2012 Honoree).
NY/NJ CEO is sponsored by Alexandria, L.E.K. Consulting, Fenwick & West LLP, ICON plc, Mintz Levin, IDA Ireland, and BioPharma Executive Council.
For more information or to register for the conference, visit: http://bit.ly/28JabSQ
ABOUT THE BOSTON BIOTECH CONFERENCES
The Boston Biotech Conferences (BBC)'s mission is to build a vibrant community of biopharma leaders, which will help to drive biopharma innovation in biotech, by convening leaders across industry and academia. The conferences are exclusive, thought-leader forums for senior biopharma executives. Each conference is highly interactive and co-hosted by healthcare industry leaders to foster discussions and facilitate information-sharing, networking, and corporate development within the biopharma community. For more information or to register, visit http://www.bbbiotechconference.com.