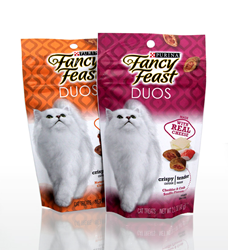 Manteno, IL (PRWEB) October 22, 2016
Brand owners, converters, original equipment manufacturers (OEMs) and co-packers alike will have opportunities to experience the full range of proven Zip-Pak resealable technologies and be introduced to new innovations. Visit Zip-Pak to hear the latest success stories, and learn how Zip-Pak's reclosure technologies and zipper application expertise play a pivotal role in elevating and differentiating noteworthy products and brands.
Sensus™ Audible Packaging Feature Appeals to Pets and Pet Owners
Feeding and treating pets is as much about the experience and the anticipation as it is about the food itself. That thought was top of mind with Purina® when, in collaboration with Zip-Pak, they selected Sensus™ for Fancy Feast® Duos treats. Ideally suited for pet products, this unique sensory closure system provides heightened audible cues each time the pouch is opened. As a result, Purina's Sensus-enhanced package helped deliver a more interactive, mutually engaging treating experience for pet owners and their cats.
Beyond pet brands, Sensus is ideal for a broad range of flexible packaged consumer products, including cereal, granola, salty snacks and detergents, as it aligns with what Zip-Pak has identified as the global trend toward more interactive consumer packaging. The audible sound provides consumers with the assurance of a secure, tight seal.
Double-zip™ Convenience and Efficiency Drive Transition from Rigid to Flexible Packaging for Morningstar Farms®
"Flexible packages featuring Zip-Pak closure solutions deliver higher levels of cost and production efficiency, greater shelf-differentiation, and consumer preference in comparison to their rigid package counterparts," states Carrie Strieter, Director, Strategic Marketing & Innovation for Zip-Pak. Kellogg's MorningStar Farms® brand experienced these benefits when they recently switched numerous veggie burger, nugget and other popular SKUs from bag-in-box cartons to flexible pouches with Zip-Pak's Double-Zip™ zipper. The closure features two sets of interlocking profiles strategically spaced to guide consumers' fingers along a path when closing a package. As a result, Double-Zip is very easy-to-align, providing a secure, complete seal each time the product is used.
"The frozen specialties category is still dominated by the traditional bag-in-box rigid package format. MorningStar Farms® recognized the opportunity to differentiate the brand and add consumer value by transitioning to resealable flexible packaging," continues Strieter. "Not only are the new stand-up and flow-wrap packages with Double-Zip zippers more cost-effective, they also elevate point-of-sale impact, while providing a more user-friendly experience in the home."
The "Less Is More" Technology of Pour & Lok™ Helps GIANTS™ Sunflower Seeds Expand Its Business
When seeking an enhanced flexible packaging solution, GIANTS Sunflower Seeds' goals were clear. "The packaging had to be a great fit with end-consumer usage behaviors and needs. So portability, pourability, and reclosability became the driving considerations for this on-the-go, sharable snack," commented Strieter. The Zip-Pak Pour & Lok™ quickly emerged as the ideal solution for the brand, supply chain, and consumers. After GIANTS' conversion to pouches featuring Pour & Lok, higher production capacity, a reduction in processing speeds, and less scrap and down time resulted. This boost in overall efficiency was an important factor in enabling Giants Sunflower Seeds to expand their line to 14 flavors, all of which now use the Pour & Lok closure.
Unique to Zip-Pak and its equipment partners, Pour & Lok® can be pre-applied using Inno-Lok™ equipment and can run on standard vertical form fill seal (VFFS) machines with a simple side gusset modification. In addition to being an ideal solution for products like nuts and seeds, Pour & Lok technology is also well suited for products like cereal, grains, candy, and pet food or treats.
The full line of flexible resealable solutions from Zip-Pak on display at Pack Expo 2016 include:
New Soundtrack™: The newly introduced Soundtrack™ is a high-performance sensory reclosure that consumers can hear and feel upon application. The closure provides heightened audible and tactile feedback and reassurance every time a flexible package is opened and reclosed.
New Easy-Open DuraZip™: Designed for large package formats, Easy-Open DuraZip™ features simple first time opening, and a durable press-to-reclose zipper. The highly burst-resistant Easy-Open DuraZip is compatible with poly woven films, and can be readily applied on large format pouch making equipment, representing an ideal solution for pet food, lawn & garden, and food service bulk products.
ZIP360®: The ZIP360® resealable pouch creates a wider opening for convenient product access, enabling consumers to easily reach package contents. The reclosure is designed to close on itself with no end termination for full perimeter resealability. ZIP360 substantially reduces the amount of materials needed for manufacture when compared to more traditional packaging formats.
Vector™: Vector™ delivers a vivid tactile response, assuring consumers of proper performance upon opening, closing, and storage of a flexible packaged product. A self-mating resealable closure, Vector represents a distinctive, easy-to-use alternative to traditional zipper profiles thanks to a matrix pattern that offers superior air-seal capabilities and is easier to align.
Inno-Lok™: Inno-Lok™ is a patented product and method for attaching reclosable fasteners transversely to packaging films, thereby producing a roll of pre-zippered film. It can be used for barrier and non-barrier packaging applications. Inno-Lok provides the flexibility to run both reclosable and regular bags on any packaging line without additional capital expenditures to produce reclosable packages. Visitors to Zip-Pak Booth N-5726 can preview the latest innovation from the makers of Inno-Lok.
Fragrance-Zip™: Fragrance-Zip™ is designed to emit a customized aroma upon initial and subsequent openings of a flexible resealable package. The scent is embedded in the reclosure during the manufacturing process. Through a close partnership with several fragrance companies, Zip-Pak has the ability to duplicate virtually any desired aroma, enabling a package to replicate the scent whenever opened. This versatile fragrance technology may be incorporated into a number of packaging styles.
Zipbox®: Zipbox® is the unique hybrid packaging format that combines the consumer-preferred attributes of flexible and rigid packaging into a novel combination of materials that is both value adding and user-intuitive. Zipbox provides an ideal solution to the long standing consumer need for easily resealing a carton and maintaining product freshness after opening. The format offers substantial production efficiencies and uses significantly less material when compared to traditional bag-in-box format since no inner liner is required.
Zipper Tape™: Zipper Tape™ is ideal for low-density polyethylene (LDPE) packaging requiring a hermetic seal. This versatile method of introducing resealability to a flexible package is designed to work with a wide range of flexible packaging materials, and an equally wide range of form-fill-seal machines.
Powder Resistant: Powder Resistant securely reseals powdery products and particulates. It is designed for seamless integration with automated applications, enabling it to be applied on horizontal and vertical form, fill and seal machinery, as well as pouch-making equipment. Powder Resistant is ideal for powdered milk, pancake mixes, flour, corn starch and other baking goods.
SecureLok™: A child deterrent pouch feature with a patent-pending flap that extends down to hide the pouch's zipper opening from curious kids. SecureLok™ is ideal for health care products, chemicals, and more.
Zip-Pak Welcomes Members of the Packaging Media
Zip-Pak cordially welcomes writers, editors and publishers of the international packaging media at Pack Expo 2016, and is scheduling press appointments at this time. To schedule a meeting or interview, please call Ilena DellaVentura at 908-534-9044, or email idellaventura(at)delianet(dot)com, with the Subject "Zip-Pak Media Request." Drop-ins also are welcome to visit the company's exhibit, Booth N-5726.
Zip-Pak Global Executives and Technical Specialists Scheduled To Be on Hand
Visitors will have the opportunity to speak directly with Zip-Pak's industry experts and gain a unique perspective on flexible packaging trends and technology advancements. They will be available to consult on the many ways that Zip-Pak solutions represent opportunities to make the move to resealable flexible packaging with greater efficiency, and more cost effectively than ever before. Representatives from the company's technical field service team will also be at the show to speak with attendees who are considering the adoption of a resealable feature for a new or existing flexible package. Zip-Pak's highly experienced technical experts travel to facilities, providing resealable closure consultation, specification, equipment integration, and operator training. An unparalleled part of the Zip-Pak experience, the technical field service team ensures optimum applicator integration and run efficiencies for its customers.
Below are the packaging equipment companies that will run Zip-Pak closures at Pack Expo:
NAME PART # DESCRIPTION LOCATION
KHS (Bartelt) 611-021 Even Flange Booth S-2114
Bodolay OS10mm Even Flange Booth S-4103
Bosch Packaging 273-100 Even Flange Booth S-3514, 603
FL Technics OS10mm Even Flange Booth # 3726
Hayssen MX12TD Vector Booth S-2514
Ilapak 273-100 Even Flange Booth S-3448b
Matrix OS10mm Even Flange Booth S-3726
PAC Machinery Zipper Tape & 1613 ZT & Even Flange Booth S-2052
PPI Technologies OS10mm & 651 Even Flange & Double Zipper Booth S-3582
Totani OS10mmsc Even Flange Booth S-7346
Triangle 1612 Even Flange Booth S-2430
UVA Butler ZE103RS Even Flange Booth S-8728
Velteko OS10mm Even Flange Booth S-4172
# # # #
About Zip-Pak
Zip-Pak, a division of Illinois Tool Works, Inc. (ITW) and the global leader in resealable packaging innovation, works closely with original equipment manufacturers, converters, packagers and brands. The company holds over 400 closure and related patents worldwide, and offers the most comprehensive portfolio of resealable zipper solutions. The Zip-Pak culture is one of continuous innovation and close collaboration with customers and packaging partners. Zip-Pak helps build brand preference with a range of quality resealable zipper solutions that deliver an enriched interactive experience, ease of use, and greater convenience to consumers. Headquartered in Manteno, Illinois, Zip-Pak operates seven world-class production facilities strategically located around the globe. This worldwide presence provides Zip-Pak with a unique viewpoint from which to readily identify emerging opportunities for resealable flexible packaging. For more information about Zip-Pak's zipper innovations, please visit http://www.zippak.com.
For press information from Zip-Pak, please contact:
Ilena DellaVentura
Delia Associates
T: 908.534.9044
E: idellaventura(at)delianet(dot)com
For more information about Illinois Tool Works (ITW), please contact:
Alison S. Donnelly
Director of Communications, Investor Relations
ITW
155 Harlem Avenue
Glenview, IL 60025
T: 224-661-7427
E: adonnelly(at)itw(dot)com
W: http://www.itw.com