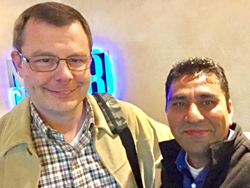 Columbia, Maryland (PRWEB) October 21, 2016
VitusVet, a veterinary technology company founded in 2013 by emergency veterinarian Dr. Mark Olcott and business school classmate Kalpesh Raval, is excited to announce that more than 25 million pet medical records are currently being shared with pet owners through VitusVet's cloud-based system. This represents a significant milestone in VitusVet's history, and a marked sign that their vision of a modernized, digitally connected veterinary industry is not only possible, but already on the way.
VitusVet's CEO, Dr. Mark Olcott weighs in on the achievement:
"[25 million records shared] means so much more to us than an endorsement of our platform's value. It proves that veterinarians are ready to embrace technologies which simplify their daily workflow and add value to their business. Faxing is an anachronism, as are phone calls for routine requests - we're working tirelessly to make the customer service tools that other industries have enjoyed for a decade the new standard of care for veterinarians, and this vote of confidence is electrifying."
VitusVet's philosophy of "value-first" app building also seems to be resonating with pet owners, who recognize that the freedom of information enabled by VitusVet could be lifesaving for their pets in an emergency. "This number, the 25 million records, can be read multiple ways" comments Kalpesh Raval, CTO. "It's 25 million pets protected from complications due to lack of information. 25 million pets who won't need to repeat tests because the referral center doesn't have the record. 25 million pets who won't miss a medication dose due to our reminder system. We're very proud of this number, and so happy to share our mission with the owners of millions of pets across the country."
VitusVet offers veterinary practices a full digital compliance solution. Within that solution, VitusVet provides two apps for veterinarians and pet owners: the record sharing and pet owner focused VitusVet app, and a veterinary text and picture messaging app known as VitusConnect. VitusVet's digital records storage, pet profiles, reminder system, note keeper, and link to Pet Poison Helpline are available to all pet owners for free on Apple and Android, with added functionality such as appointment scheduling and automatic medical record synchronization available to clients of subscribed practices.