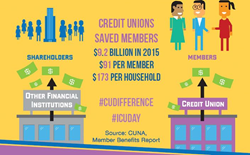 Tampa, Fla. (PRWEB) October 21, 2016
Financial institutions are not typically known for having the shiniest reputations. Unfortunately, this image problem has only been exacerbated by recent banking scandals featured in the news.
USF Federal Credit Union and its Darden Credit Union and Red Lobster Credit Union divisions, are fully aware of this perception which is why they have always put financial wellbeing of their members first by offering the best solutions to meet their needs (nothing more or less). As a way to thank their members and promote the non-profit credit union philosophy, they celebrated International Credit Union Day (ICU Day) at their Tampa location, on the University of South Florida's main campus, and at their Orlando headquarters by offering treats and giveaways.
ICU Day was established in 1948 and has been observed annually, on the third Thursday of October, by over 56,000 credit unions around the world. This year, the theme for ICU Day was "The Authentic Difference." Credit unions have nine, core principles that set them apart from other financial institutions:
1. Democratic Control – every members' voice is equal no matter what they have in their account
2. Open and Voluntary Membership
3. Non-Discrimination
4. Service to Members
5. Distribution to Members – profits are returned to the members in the form of dividends, lower fees, better rates, and improved products and services
6. Building Financial Stability – credit unions are owned by their members and avoid unethical business practices
7. Cooperation Among Cooperatives
8. Social Responsibility
9. Ongoing Education – credit unions place a strong emphasis on fostering financial education initiatives for their members, employees and communities
Above all, credit unions are based on the ideal of putting people before profits and every business decision is made with that objective in mind.