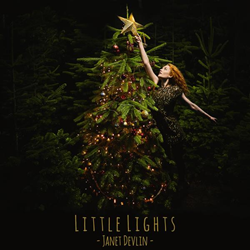 New York, NY (PRWEB) October 21, 2016
After the success of her festive seasonal EP, 'December Daze,' last year Janet Devlin has once again bestowed another Christmas cracker upon us with her new EP, 'Little Lights', set for a November 4th, 2016 release on OK!Good Records. The rising singer-songwriter skillfully captures the wide range of feelings and emotions associated with the Holiday Season on this release. "It's a slightly darker, more mellow venture into this special time of year. I wanted to acknowledge that it's not always eggnog, tinsel and wrapping paper, and that there are other emotions evoked by Christmas time," Janet explains.
Featuring a mix of her own originals, alongside covers of a few timeless Christmas classics, 'Little Lights' showcases Janet's enchanting and unique vocals which first captured the public's hearts in 2011 with her unforgettable appearance on The X-Factor UK. Following the 2015 release of her critically acclaimed debut album, 'Running With Scissors,' Janet's US fan base has been rapidly expanding leading to several US mini tours.
'Little Lights' was recorded and produced by the award-winning producer Graeme Pleeth, and mastered by Christian Wright at the prestigious Abbey Road Studios. The EP blends beautiful ballads like Janet's original "Merry Christmas Mum & Dad" and the lush string arrangement of "White Christmas," with the upbeat indie-folk sound that Janet has become known for on "Something Beginning With Christmas" and tops it off with a surprisingly moving rendition of Slade's Christmas classic "Merry Xmas Everybody". As a bonus the EP also includes the previously digital-exclusive track, "Christmas Kiss" from last year's 'December Daze.'
Janet Devlin's 'Little Lights' is a perfect stocking stuffer and has something special for everyone on your list this Holiday Season. The EP along with a range of festive little goodies, exclusive items and experiences, is available for pre-order through Pledge Music.
Track-listing:
1. Wake Up It's Christmas
2. Merry Xmas Everybody
3. Merry Christmas Mum & Dad
4. White Christmas
5. Something Beginning With Christmas
6. Christmas Kiss
About OK!Good Records:
OK!Good Records is a genre independent record label established in 2010 to distribute, market, and promote artists and music that defy boundaries, reject limitations, and transcend the ordinary. They champion and celebrate independent music, thought, art, expression, and enterprise. http://www.okgoodrecords.com