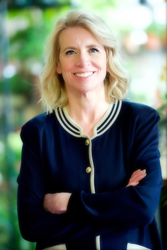 I will be a champion for women and children and families. My focus will be on improving our lives and the opportunities for future generations."
Cincinnati Ohio (PRWEB) October 22, 2016
On October 21st, The Cincinnati Enquirer published a guest editorial by Congressional challenger Michele Young declaring her opponent to be a "relic of another era."
Ms. Young wrote that her opponent is dangerously out of touch with the changing needs of women in his district.
"While our lives changed, he has not," wrote Ms. Young. "U.S. Rep. Steve Chabot's voting record is one that has failed to protect women. He voted against the reauthorization of the Violence against Women Act in 2013. He has not proposed a single piece of legislation that would ease our burdens as we balance work and motherhood. He has not responded to childhood poverty although Cincinnati has the second-highest rate in the nation." The guest editorial can be read at
http://www.cincinnati.com/story/opinion/contributors/2016/10/20/chabot-relic-another-era/92428922/
Ms. Young is a mother of five, an outsider and first-time candidate challenging the most entrenched Congressperson in Southwestern Ohio, Steve Chabot. Ms. Young said she could not sit on the sidelines this election. "Too much is at stake. Our Congress no longer serves the people. It is time to take back Congress and fight for our hardworking families and businesses," said Ms. Young. After publicly declaring her candidacy on Facebook one month before the March 15th primary, Ms. Young won all 505 precincts in the Democratic primary against a well-funded opponent who had represented the party in the past Congressional contest.
A lawyer and legal author, Ms. Young brings together leaders from all walks of life to work for tolerance and against injustice. She crossed political lines in support of public safety initiatives like the "Don't Text and Drive campaign" and securing a state-of-the art crime lab for Hamilton County. Ms. Young has received Women's Political Caucus Outstanding Achievement Award" for her work.
Ms. Young's broad range of endorsements reflects the wide-spread support for this upstart candidate against an entrenched career politician. Her endorsements include the Fraternal Order of Police Lodge 112, the National Education Association, the Cincinnati Federation of Teaches, Local 1420, Plumbers and Pipefitters Local 392, the Ohio Association of Public School Employees, Ohio Civil Service Employees Association, AFSCME Ohio Council 8, United Food and Commercial Workers International Union Local 75, and the Iron Workers Local 44.
The race has caught the attention of civic leaders across the area and nation including two Kennedys and Gloria Steinem.
"It is time for change," said Ms. Young.