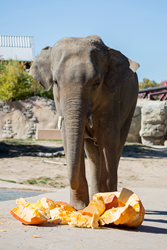 Denver, CO (PRWEB) October 20, 2016
To get Denver Zoo guests in the spirit for its upcoming Boo At The Zoo events, Bodhi (BOH-dee), a 12-year-old, male Asian elephant, crushed two, 600-pound pumpkins at today's Toyota Elephant Passage demonstration. The event didn't go quite as planned, as the 9,000 pound pachyderm had to step in when Billy, the Zoo's youngest elephant, shied away from the giant gourds. However, it didn't take long for Bodhi to squish the squashes once given the chance. The pumpkins were donated by giant pumpkin hobbyist Brian Deevy, in cooperation with Steve Zerr and Zerr Landscaping.
Watch video of today's event here: https://www.youtube.com/watch?v=0AYw1hlDqTA&feature=youtu.be
Boo At The Zoo, presented by Your Hometown Toyota Stores, now runs over two weekends and begins this Saturday. Event dates and times are October 22-23 and 29-30, from 9 a.m. to 5 p.m. The event offers 20 trick-or-treat stations, creepy crawly animal demonstrations and exciting family-friendly entertainment under the canopy of the beautiful fall foliage of Denver Zoo. This event is included in the price of regular Zoo admission.
New this year, the event will provide nautical-themed entertainment inspired by the Zoo's traveling art exhibit, "Washed Ashore: Art to Save the Sea," presented by CH2M. These include meet-and-greets, photo opportunities and demonstrations with mermaids, pirates and fairies.
The Zoo will also host Boo After Dark on October 28 and 29, from 6:30 to 9 p.m. This after-hours extravaganza, also presented by Your Hometown Toyota Stores, offers many of the same activities as Boo At The Zoo, but in a more exclusive atmosphere for guests that prefer to trick-or-treat in the evening. Pricing is $17 for adults (ages 12-64) and $12 for children (ages 3-11). Ages 2 and under are free. Membership does not cover admission to this event.
Both Boo At The Zoo and Boo After Dark are also presented in partnership with Children's Hospital Colorado, Cigna and Delta Dental.
About Denver Zoo: Denver Zoo brings education alive, providing a unique learning experience that sparks an interest in the natural world for visitors and program participants alike. Home to 4,300 animals representing more than 600 species, the Zoo is accredited by the Association of Zoos and Aquariums (AZA), which assures the highest standards of animal care.
A leader in green action, Denver Zoo is the greenest zoo in the country and is dedicated to ensuring the safety of the environment in support of all species by attaining the highest environmental standards. Since 1996, Denver Zoo has participated in over 600 projects, in more than 60 countries, on all seven continents, and commits more than $2 million annually to field conservation.
###