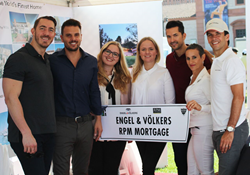 "It was such a pleasure to enjoy the event together with our team, our local clientele and new community members who we met throughout the weekend." - - Raphael Barragán
BEVERLY HILLS, CA (PRWEB) October 21, 2016
With devotion to community, culture and the arts, lifestyle luxury real estate brand, Engel & Völkers proudly sponsored this seasons Beverly Hills Art Show. Held over the weekend, the Beverly Hills, Los Angeles, Santa Monica and Park City Engel & Völkers shops joined together in support of the community-adored event.
The Beverly Hills Gardens on Santa Monica Boulevard brought together the work of over 240 diverse painters, sculptors, photographers, ceramic, glass, mixed media artists and more. Far more than just a real estate company, Engel & Völkers is committed to being part of important cultural events, uniting artists and admirers from all walks of life. At this past Art Show, the real estate brand chose to further promote one exhibitor in particular – Stephen Rowe. An Australian artist with contemporary style, Rowe paints in accordance to his emotions – the good and the bad – expressing the beauty of truth along his journey of life.
"The turn out at this season's Art Show was incredible," says Raphael Barragán, License Partner of Engel & Völkers Beverly Hills. "It was such a pleasure to enjoy the event together with our team, our local clientele and new community members who we met throughout the weekend."
Representatives from both brand's teams hosted the company booth to answer questions and inquiries about the works of art they represent in real estate, as well to introduce the brands to new community members. With over 50,000 art lovers that attended the show, Engel & Völkers and RPM Mortgage were excited to be continued participants of the bi-annual Art Show.
About Engel & Völkers
Since its establishment in 1977 as a specialty boutique providing exclusive, high-end real estate services in Hamburg, Germany, Engel & Völkers has become one of the world's leading companies specializing in the sale and lease of premium residential and commercial property and yachts. Engel & Völkers currently operates a global network of real estate advisors in more than 700 residential brokerages and 75 commercial offices spanning 36 countries across 4 continents, offering both private and institutional clients a professionally tailored range of luxury services. It established its North America corporate headquarters in 2007 and opened its first brokerage in the same year. Committed to exceptional service, Engel & Völkers supports its advisors with an array of premium quality business services, marketing programs and tools, multiple platforms for mobile, social and web, as well as access to its global network of real estate professionals, property listings and market data.