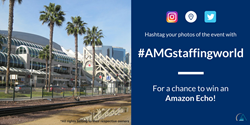 "The Elionic is a multi-functioning smart device, allowing employees to do much more than just clock in and out"
Los Angeles, CA (PRWEB) October 21, 2016
AMGtime will be exhibiting at the 2016 Staffing World Conference on October 25-27, at the San Diego Convention Center, celebrating American Staffing Association's 50th anniversary. Staffing World is the largest convention for the staffing and recruiting industries, primarily highlighting new technology within the industry. AMGtime is a leading solution for time and attendance, and will be showcasing their innovative software and hardware solutions in booth 720.
Located in sunny San Diego, California, Staffing World will include workshops, vendors, and keynote speakers, all for the purpose to help staffing agencies take their business to the next level. Among the keynote speakers this year are Peter Sheahan, CEO of Karrikins Group, and Peter Diamandis, M.D., Chairman, and CEO of XPRIZE Foundation. Expertise will be shared and efficient solutions presented, to assist in the growth of the staffing industry.
AMGtime software is available on both the cloud and client server, and works seamlessly with many hardware options ranging from biometrics to a mobile app. The software is also highly customizable using a combination of modules. The Staffing Agency Module was created specifically with the staffing industry in mind. The module tracks employee hours at the different client companies, imports schedules, and records employee pay rate and client bill rate. It also produces wage summary reports, calculating wage based on bill rate.
AMGtime will also be showcasing their newest fingerprint reader, the Elionic employee kiosk, which allows employees to view time cards, check schedules, and request time off directly from the device. "The Elionic is a multi-functioning smart device, allowing employees to do much more than just clock in and out," says CEO of AMG Employee Management Inc., Tony Galstyan.
Visit AMGtime at booth 720 and ask how AMGtime can benefit your company; and enter for a chance to win great prizes such as the Amazon Echo!
About the Company
With over 23 years of industry experience, AMG Employee Management Inc. is a national leader in providing comprehensive time and attendance products and services. This innovative Los Angeles based company has a passion for supplying companies with solutions that boost the accuracy of time and payroll records. From basic to highly customizable solutions for niche markets, AMG Employee Management delivers the best solution, based on the needs of each company.