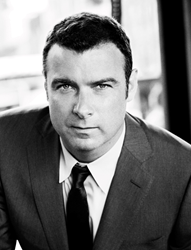 Liev Schreiber's dedication to the elevation of Jewish culture has been seen time and again
New York, New York (PRWEB) October 21, 2016
Golden Globe nominee and Tony Award winner Liev Schreiber will be honored at the National Yiddish Theatre Folksbiene [NYTF] Golden Gala at the Museum of Jewish Heritage on Monday, December 12th, 7pm.
Schreiber can currently be seen playing the lead role of Le Vicomte de Valmont in Les Liaisons Dangereuses on Broadway through January 22, 2017. His achievements as an actor, writer, director and producer have touched audiences across the world. He stars as the title character in the Showtime series Ray Donovan, which will begin shooting Season 5 this January. Schreiber, who is no stranger to playing roles that have allowed him to explore his Jewish roots, grew up on Manhattan's Lower East Side.
"Liev Schreiber's dedication to the elevation of Jewish culture has been seen time and again, from his memorable role of Misha in Jakob the Liar, to his writing-and-directing debut on the film adaptation of Everything is Illuminated, though his portrayal of real-life resistance fighter Zus Bielski in Defiance," says NYTF Executive Director Bryna Wasserman. "It's a tremendous privilege to have Mr. Schreiber as this year's honoree as we enter our 102nd consecutive season."
Honorary Gala Co-Chairs include Tony-and-Drama Desk Award winning producer Margot Astrachan; 3-time Tony Award winner and 5-time Drama Desk Award winning composer/lyricist Jason Robert Brown; Emmy-and-Drama Desk Award winner and Grammy-and-Tony Award nominated producer Douglas Denoff; MacArthur Award winner, 2-time Tony Award winner, Drama Desk-and-Outer Critics Circle Award winning playwright/lyricist Joe DiPietro; Pulitzer Prize and 4-time Tony-and-Drama Desk Award winning playwright/lyricist Sheldon Harnick; Emmy-and-Tony Award winning performer Mandy Patinkin; 10-time Tony Award winner and 10-time Drama Desk Award winning producer Daryl Roth.
Inspired by the tremendous success of NYTF's recent hit operetta The Golden Bride, which received critical acclaim and was the only Off Broadway production nominated for a Drama Desk Award in the categories of musical revival and direction, the Gala will launch a worldwide initiative of identifying and restoring lost and forgotten works of the Yiddish Theatre canon. The endeavor will enlist academic institutions and archives around the globe to contribute to the process.
"Like The Golden Bride, there are thousands of mislaid Yiddish librettos and manuscripts in deteriorating condition that are just waiting to be rediscovered and repaired," says NYTF Artistic Director Zalmen Mlotek. "Returning these Yiddish works to their original state and enabling them to be performed is not just a cultural responsibility, but an historic necessity."
An exclusive preview concert of this initiative, curated by Mlotek and NYTF Associate Artistic Director Motl Didner, will be presented at the Gala, performed by stars of The Golden Bride Rachel Policar, Cameron Johnson and Adam B. Shapiro. They will be joined by performers Grace Field and Daniel Greenwood and accompanied by a 16-piece orchestra conducted by Mlotek.
"The Golden Bride was an unparalleled artistic and financial success for our organization," adds NYTF Executive Producer Christopher Massimine. "We'd like to take that model and use it to advance our work across the country, living up to our 'national' namesake. In other words, as we move forward, Off Broadway is not the 'end all' to our productions, but rather the genesis."
The Golden Bride will be the first NYTF production slated for a National Tour. NYTF plans on reuniting members of its Off Broadway cast to return for a 2017 touring production.
NYTF's Golden Gala will be held at Museum of Jewish Heritage, Edmond J. Safra Plaza, 36 Battery Place, New York, NY on Monday, December 12 at 7pm. Tickets are $750 and are on sale now, call (212) 213-2120 ext. 208 or visit nytf.org