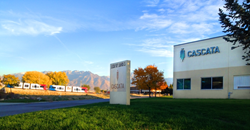 "Consumer demand for stand-up pouches continues to accelerate and Cascata is strategically positioned to capitalize on these trends." - Jeremy Andrus
West Valley City, UT (PRWEB) October 24, 2016
Cascata Packaging (http://www.cascatapack.com), a new contract packaging company, announces the formal launch of its 75,000 square foot facility, specializing in the manufacturing of stand-up pouches. With the opening of this $18 million facility, Cascata raises the standard for form-fill-and-seal spouted and tear-top pouches with premier equipment and quality systems. Cascata is capable of processing the most challenging formulations, notably energy and protein gels, nutritional supplements, applesauce, baby food, and juices.
The significant investment made in the facility and employees make Cascata a highly efficient operation capable of meeting the industry's growing demand for stand-up pouches. The opening of Cascata makes it the largest independently owned co-packer of form-fill-and-seal spouted and tear-top pouches in the western United States. The state-of-the-art filling machines are supported by technologically advanced batching and pasteurization equipment as well as air-driven cooling tunnels and post-fill pasteurization systems that preserve the quality of the product and its active ingredients, color, and taste.
Jeremy Andrus, co-founder and Chairman, stated, "Although raising money for capital-intensive start-ups is typically challenging, a clear market opportunity allowed us to assemble an interesting group of investors who believe in this opportunity. I am excited to be a part of a premier operation that will not only produce quality products, but create skilled manufacturing jobs in the state of Utah." Mr. Andrus added, "Consumer demand for health-focused snacks and supplements packaged in stand-up pouches continues to accelerate and Cascata is strategically positioned to capitalize on these trends."
Bryan Wright, co-founder and CEO, said, "We have engineered a plant and hired talent to exceed customers' expectations by making our facility an extension of their business through transparency and openness of the manufacturing process. The response from our customers has been overwhelming with demand exceeding our forecasts. This has prompted us to invest in additional equipment and personnel to immediately increase our packaging capacity before we have started production."
Chief Financial Officer and co-founder, Lindsay Jones, commented, "We thank our equity partners, lenders, suppliers, and West Valley City leaders who have caught our vision to create a world-class operation. Our partners continued financial support allows the company to expand and grow with current and future customer orders."
About Cascata Packaging, LLC
Cascata is a privately-held company strategically-located in the Salt Lake City area with the capabilities to process and package liquids, gels, purees, and sauces in stand-up pouches. Cascata is recognized by the Mountain West Capital Network (MWCN) (http://www.mwcn.org) as a 2016 "Emerging Elite" company for its operations and promising future success. Cascata's production operation complies with Good Manufacturing Practices under 21 CFR parts 110 and 111. The quality management system is designed to meet SQF and NSF standards. Additionally, Cascata's facility can accommodate organic, gluten-free, kosher, and halal label claims.