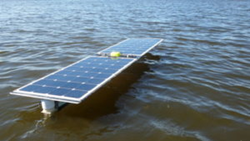 (PRWEB) October 30, 2016
The creators of the SeaCharger Oceangoing Autonomous Boat have begun using a T4500.2 protective case to house the electronics on the SeaCharger which is aiming to be the first unmanned surface vehicle (USV) to cross an ocean on solar power alone. The Seacharger is currently on a trip from California to Hawaii and its progress can be tracked via the website. This is not a commercial project, but simply a couple of hobbyists assembling a few pieces of ordinary technology to accomplish an extraordinary feat.
Here is an excerpt from the Seacharger build blog about what they did with the T4500.2 S3 case to customize it to their needs. "The yellow box in the picture below is my electronics enclosure. It's just an off-the-shelf enclosure with holes drilled in the side for a few bulkhead connectors. Then you see my beautiful attempt at a circuit board to the right. It's got a voltage regulator to cap the solar panel voltage, the R/C receiver, and a power switch. Eventually all this will be organized better and an autopilot and satellite modem will be added." S3 Cases is proud to be part of this historic event.