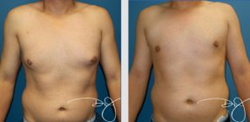 Liposuction and other procedures are not to be thought of as substitutes for weight loss.
Beverly Hills, CA (PRWEB) October 26, 2016
An October 18 article in Cosmetic Surgery Times discusses a recent review bolstering the long-held medical consensus that, while liposuction and body contouring patients typically experience a genuine improvement in their level of confidence in their appearance, any weight loss related benefits associated with the procedures are small. Beverly Hills based plastic surgeon Payam Jarrah-Nejad, M.D., F.I.C.S., F.A.C.S., known to colleagues and patients as Dr. J, notes that he regularly informs the public that liposuction and other procedures are not to be thought of as substitutes for weight loss. He adds that the appropriate uses of liposuction and body contouring procedures are as follows:
1. To deal with stubborn pockets of fat. Even people who have otherwise become fairly slender through a lowered calorie diet and exercise are often faced with areas where the fat simply refuses to leave, says Dr. J. While liposuction should never be considered an alternative to weight loss, it can be used to help patients in pursuit of a better body enjoy the full benefit of their hard work with a leaner, more sculpted look, Dr. J adds.
2. For male breast reduction. Gynecomastia is a common medical condition associated with oversize male breasts. Dr. J notes that this condition can very often be successfully treated with liposuction, sometimes in combination with other contouring procedures. Dr. J notes that many men feel quite a bit of embarrassment when faced with gynecomastia, and may be less likely to attend beach and poolside social functions; they may not even want to be seen wearing a moderately snug fitting shirt. He adds that patients typically report being extremely happy with the procedure and feeling far more comfortable with their appearance.
3. For dealing with folds of skin after a major weight loss. Dr. J notes that large weight losses, most commonly after childbirth or following a successful weight loss surgery, often leave large folds of skin. These folds are not only considered unsightly by most people, they may be quite uncomfortable to live with. Dr. J adds that the procedure known as the tummy tuck effectively removes loose skin and helps both women and men who have lost weight enjoy the full physical and psychological benefit of their achievement.
4. For buttock augmentation. Dr. J also says that the procedure commonly referred to as Brazilian butt lift employs transferred fat, obtained via liposuction, from elsewhere in the body to sculpt a fuller, more voluptuous, backside. Using transferred fat has many advantages, he adds, including a lowered chance of infection compared to synthetic implants. Dr. J points out that the procedure is also something of a "twofer"; removing unwanted fat from one part of the body and adding it to a place where it's desired. Interested readers would like to learn more about plastic surgery can call Dr. J's office at 310-683-0200. They may also visit his site and learn about such topics as male liposuction.