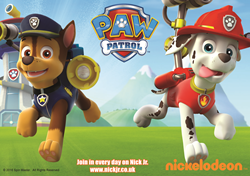 Phil Hooper, European Marketing Director from Spin Master Toys said: "PAW Patrol continues to go from strength to strength as a Character Property.
London, England (PRWEB UK) 21 October 2016
At each of the UK venues, children will get a chance to meet two of the characters from the popular Nickelodeon animated television series. The characters included in the tour are Chase, Marshall and Skye and the tour expects to reach some 50,000 fans and their parents over the next 8 weeks.
Feedback from St Helens and Luton events last weekend was overwhelming with Store managers reporting a massive turnout of fans. Tour organiser, Rainbow events, commented that the characters were virtually mobbed by the hundreds of eager fans!
The events, which are ticketed through the participating outlets, will allow each attending child the opportunity to meet the characters, plus they will receive a sticker and activity sheet to take away.
For those interested in meeting the characters and participating in the activities, events include:
The Entertainer/Shopping Centres
There will be 10 sessions each offering 50 child tickets at each venue. Sessions last 30 minutes and include a chance for fans to shake their stuff to the popular "Pup Pup Boogie" track from the TV series. Tickets are free while stocks last and must be obtained from The Entertainer store in each area.
Date and Store
22.10.16 Wandsworth Southside
24.10.16 Crawley The Mall
25.10.16 Maidstone, The Mall
26.10.16 Leeds, Trinity
28.10.16 Coventry, Lower Precinct
29.10.16 Birmingham, Bullring
Smyths – Instore Meet and Greets
Tickets are available to collect in store while places last.
Date and Store
05.11.16 Crayford
12.11.16 Kidderminster
03.12.16 Leeds Crown Point
10.12.16 Leicester
17.12.16 Longbridge
Toys (R US) Instore Meet and Greet
Date and Store
22.10.16 Stoke
05.11.16 Stevenage
26.11.16 Reading
10.12.16 Poole
17.12.16 Cardiff
Kidtropolis – ExCeL Centre - 25th/26th/27th October
The Paw Patrol Characters will be at the Kidropolis event on the above dates. Chase and Marshall will be attending on Day 1 which is the Press Day with Skye appearing on days 2 and 3. Meet and greet with the characters will be subject to availability and only available to those already holding a Kidtropolis ticket. For further details visit http://www.Kidtropolis.co.uk
The events have been organised by Spin Master Toys who make the toys and developed the PAW Patrol concept along with partners, Nickelodeon. Speaking about the tour, Phil Hooper, European Marketing Director from Spin Master Toys said: "PAW Patrol continues to go from strength to strength as a Character Property. Its appeal to both boys and girls is fuelled by their love of the characters and storylines which sees the pups solving problems in each of their adventure. Mr Hooper continued: "There is an enormous appetite for fans to meet the characters as we have already seen and we're looking forward to planning more events through 2017."
For further information about the tour, visit retailer websites and in-store.
-ends-
About Spin Master
Spin Master is a leading global children's entertainment company that creates, designs, manufactures and markets a diversified portfolio of innovative toys, games, products and entertainment properties. Spin Master is best known for award-winning brands including Zoomer™ Dino, Bakugan Battle Brawlers™, Air Hogs®, and 2016 Toys of The Year, Bunchems and Meccanoid G15. Since 2005, Spin Master has received 64 TIA Toy of The Year (TOTY) nominations with 18 wins across a variety of product categories. Spin Master has been recognized with 12 TOTY nominations for Innovative Toy of the Year, more than any of its competitors. Spin Master is among a limited number of companies that not only develop and produce global entertainment properties, characters and content, but also monetize that content through the creation, sale and licensing of products. To date, Spin Master has produced six television series, including 2007 hit series Bakugan Battle Brawlers and its current hit PAW Patrol, which is broadcast in over 160 countries and territories globally. Spin Master employs over 1,000 people globally with offices in Canada, United States, Mexico, France, Italy, United Kingdom, Slovakia, Czech Republic, Germany, Sweden, the Netherlands, China, Hong Kong, Japan, and Australia.