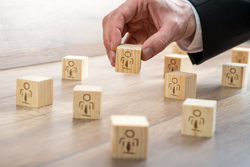 London, England (PRWEB UK) 21 October 2016
London School of Marketing has released a blog post, exploring why effective staff management is so important, and how it can be achieved in the workplace. Mentoring and motivating staff members is essential if you want to improve your business's performance, the post explains. Managing employees effectively also has a positive impact on staff retention, reducing the time and money spent on replacing team members.
"Well trained staff who feel positive about their roles can help take your business to the next level," said LSM chief marketing officer Anton Dominique.
"Thorough training, streamlined systems and good morale are essential if you want to get the best possible results from your team."
The blog post emphasises the importance of communicating closely with employees, developing a clear understanding of what motivates and frustrates them. The best HR managers hold regular meeting with team members to identify their strengths and weaknesses, and help them to progress within the company.
The post goes on to explain how LSM's Human Resource Master's prepares students for a career in HR. Students develop all the skills and knowledge they need to excel in this rewarding industry, including communication, critical evaluation and HR ethics.
The full blog post, including a more detailed look at effective employee management, can be viewed here. The internationally recognised qualifications offered by the school, including its Human Resource Master's degree, can be viewed at http://www.londonschoolofmarketing.com.
London School of Marketing delivers accredited marketing and business qualifications, and offers professional courses from recognised professional bodies such as CIM, EduQual and academic qualifications on Marketing, Business, Finance, Law and HRM from Anglia Ruskin University and The University of Northampton. Based in Central London, they are a QAA approved institution. The school also has offices in Sri Lanka, a network of Local Access Points (LAPs), and online programmes of learning.