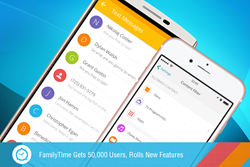 FamilyTime has users from all across the world. Having been trusted by 50,000 families is a testament to our success.
Tokyo (PRWEB) October 25, 2016
When it comes to the digital parental controls, FamilyTime is not an unknown name. A parental control app only launched a couple of years ago, FamilyTime has carved its name and a distinct impression in the mobile monitoring and digital parenting industry. With a steady stream of new features and multilingual support, FamilyTime continues to win the hearts of many parents all over the world and has reached a 50,000-user milestone, making it one of the best parental control software.
With more and more parents trusting FamilyTime as their no. 1 choice for a parental control app, FamilyTime continues to roll new, innovative features. Now parents monitoring their children's Android devices can also monitor their text messages. This means that parents can easily read all incoming and outgoing messages their children send and receive thorough their FamilyTime – Dashboard.
Parents monitoring their children's iOS devices have something to look forward to as well. The latest feature, Content Filter allows parents to block explicit and inappropriate content on their children's iOS devices. Parents can block TV shows, films and apps and apps with adult ratings and can also restrict explicit content and adult fiction on iTunes and iBooks.
When asked about the growing customer base, Ahmed commented, "FamilyTime is a growing family. FamilyTime has users from all across the world and the number is growing everyday! Having been trusted by 50,000 families is a testament to our success."
FamilyTime app for parental controls is a complete package for parents who want smart parental controls and reliable service at affordable price. With Halloween approaching soon, FamilyTime promises significant discounts to help parents save more while protecting their children with state-of-the-art parental controls.
About the App:
FamilyTime app has a simple interface and has a separate version dedicated to parents and children. Parents can access their FamilyTime – Dashboard from the web as well as from the app to monitor their children's SMS, call and Internet history logs, to track their location history and can also set parental controls like Screen Time Lock, Block Apps, and set Geo-Fence around certain places. Children can use the FamilyTime App for Children to send SOS and PickMeUp Alerts to their parents in case of some emergency. FamilyTime – Dashboard is a free app and can be downloaded from Google Play or iTunes. They also offer a 24/7 helpline: +18667231238 for any product-related queries and troubleshooting.