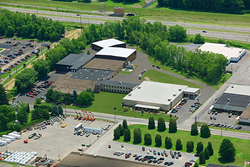 No other company offers flowforming of 48-inch diameter components, combined with the state-of-the-art processes, in house manufacturing, design flexibility and project control that PMF is able to offer.
Williamsport, Pa. (PRWEB) October 23, 2016
PMF Industries has announced completion of a new, 14,000 sq. ft. expansion to its 140,000 sq. ft. facility which includes a hot-spinning operation and Class 1000 clean room area, along with the company's existing mechanical polishing, electropolishing, and passivation operations. In addition to the company's new flowforming equipment, which can produce flowformed parts up to 48 inches in diameter, the expansion positions PMF for increased business in the aerospace, food and beverage, pharmaceutical, microelectronics, and defense industries, as well as the energy and transportation sectors.
PMF's new hot-spinning operations, which involve the heating of an axially symmetrical, metal tube spun on a lathe at high speeds, and the use of various tools to shape it, will produce canisters able to withstand up to 5,000 psi of pressure to hold compressed natural gas, oxygen, and other gasses used for transportation, pharmaceutical or military applications.
The company is in the process of relocating its mechanical polishing, electropolishing and passivation operations to the new site, which offers better air filtration and a brighter, more spacious work environment and includes clerestory windows. The new electropolishing and passivation area, where metal-worked components will be physically and/or chemically stripped of free iron and elements such as chromium when placed in a series of chemical baths and rinses (some while undergoing an electrical charge), will feature all new tanks, an overhead hoist system, and the addition of a citric acid bath for use with more environmentally sensitive applications.
A Class 1000 clean room planned for the new facility in combination with its electro-polishing and passivation operations, will allow the company to meet additional, stringent testing requirements associated with microelectronics and pharmaceutical applications.
As an enhancement to its core business of producing flowformed parts, PMF also recently expanded its capabilities with the addition of two new machines, a hot-spinning machine and a flowforming machine, featuring four rollers instead of three, allowing the company to flowform parts up to 48 inches in diameter. Flowforming is a cold-extrusion, metal-forming process that produces seamless, high-precision, rotationally symmetrical cylindrical, conical, or contoured shapes. It offers one of the best and most economical methods of producing hollow shafts used in many industries. The process offers design flexibility and has the ability to produce complex, near-net-shaped components from preforms or blanks, resulting in significant material savings and dramatically lower costs than other metal-forming techniques.
"No other company offers flowforming of 48-inch diameter components, combined with the state-of-the-art processes, in house manufacturing, design flexibility and project control that PMF is able to offer," said Ken Healy, vice president and director of engineering for PMF. "The addition of our new hot-spinning and, soon, Class 1000 clean room capabilities and other enhancements associated with our facility expansion, will provide even more value for our customers."