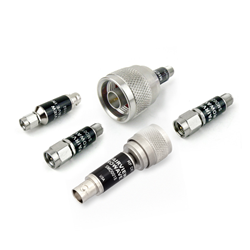 "This selection of zero bias Schottky diode detectors covers popular frequency bands from 10 MHz to 26.5 GHz with an extremely flat frequency response and no DC bias required," said Brian McCutcheon, VP and General Manager at Fairview Microwave
ALLEN, Texas (PRWEB) October 24, 2016
Fairview Microwave Inc., a supplier of on-demand microwave and RF components, has expanded their portfolio of zero bias Schottky detectors that display extremely flat frequency response over broad RF and microwave frequencies from 10 MHz to 26.5 GHz.
Fairview's zero bias Schottky detectors utilize compact cylindrical package outlines that are made of passivated stainless steel and offer a variety of popular input/output SMA, BNC and N Type connector configurations that make them ideal for use with precision test and measurement, instrumentation and subsystems assemblies. Numerous applications include power measurement, leveling pulsed signal sources, AM noise measurements, radar or missile guidance systems, monitoring system level performance and pulsed RF measurements.
Fairview Microwave's line of zero bias Schottky detectors feature matched inputs for excellent VSWR, voltage sensitivity levels that range from 100 to 500 mV/mW for small signal detection, negative video output polarity and can withstand maximum input power levels up to +20 dBm CW. Operating temperature range covers 0°C to +90°C and storage temperatures of -65°C to +125°C.
"This selection of zero bias Schottky diode detectors covers popular frequency bands from 10 MHz to 26.5 GHz with an extremely flat frequency response and no DC bias required. Available in a variety of compact package and RF connector configurations, designers will find these models useful for precision test and measurement applications and in monitoring system level performance," explains Brian McCutcheon, Vice President and General Manager at Fairview Microwave.
Fairview's newly expanded offering of zero bias Schottky detectors are in-stock and available for immediate shipment. You can view the RF detectors by visiting https://www.fairviewmicrowave.com/rf-products/zero-bias-schottky-detectors.html. Fairview Microwave can be contacted at +1-972-649-6678.
###
About Fairview Microwave
A leading supplier of on-demand RF and microwave products since 1992, Fairview Microwave offers immediate delivery of RF components including attenuators, adapters, coaxial cable assemblies, connectors, terminations and much more. All products are shipped same-day from the company's ISO 9001:2008 certified production facilities in Allen, Texas.
Press Contact:
Peter McNeil
Fairview Microwave
17792 Fitch
Irvine, CA 92614
(978) 682-6936 x1174