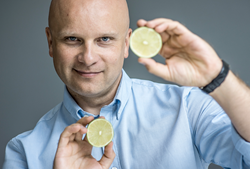 For our clients, which include some of the world's largest technology companies, the priority is gaining a global competitive advantage and they turn to CodiLime for solutions which make it possible.
Warsaw, Poland (PRWEB) October 25, 2016
The company's ranking on the Technology Fast 50 list was based on its revenue growth over the previous four financial years (2012-2015). deepsense.io has played a key role in CodiLime's success and its cutting-edge achievements in the deep learning field have been recognized by the industry and news media around the world. The rapid expansion has lead CodiLime to aggressively enlarge its teams of top programmers, while simultaneously implementing ground-breaking changes in its cybersecurity business (including the upcoming launch of a new binary analysis tool late in 2016).
Following the announcement of CodiLime's top-2 placement on this year's Deloitte CE Technology Fast 50 list, co-founder and CEO Tomasz Kulakowski credited the company's employees and long-term strategy for the accomplishment. "Since founding CodiLime, we've always made sure to focus on three key elements which have been the engines of our growth. First, we built a team of exceptionally talented and motivated people (currently made up of nearly 200 members) who implement our company's mission each and every day. Second, we invested in developing our competencies and establishing proprietary technologies in three high-growth IT areas: global network solutions, security as well as deep learning and artificial intelligence. Finally, the third foundation of our success is an unwavering commitment to keeping the promises we make to our clients." Kulakowski explained that, "for these clients, which include some of the world's largest technology companies, the priority is gaining a global competitive advantage and they turn to CodiLime for solutions which make it possible."
CodiLime's second place on the CE Tech Fast 50 list is just the latest example of the recognition the company's meteoric growth has received. In 2015, the company placed second in Deloitte's Central Europe Rising Stars list of young high-growth tech companies.
Additionally, CodiLime co-founder and CEO, Tomasz Kulakowski, has received numerous awards as one of Poland's and Central Europe's top tech entrepreneurs. Earlier this year, he captured the Polish Business Roundtable's Jan Wejchert Award for Vision and Innovation, one of the most prestigious prizes in Poland's business community. In 2014, Kulakowski was selected as the 2014 EY Entrepreneur of the Year in the New Business category.
About CodiLime:
CodiLime provides professional IT consulting and software engineering services for global clients in three core areas: Networks, Security and Big Data Science & Deep Learning (through its deepsense.io subsidiary). The company was established in 2011 by a group of Polish computer scientists and mathematicians with outstanding technical backgrounds and professional experience gained at leading global IT companies in Silicon Valley. Currently, CodiLime is made up of approximately 200 carefully chosen team members (mostly software engineers and data scientists). CodiLime clients such as NTT, Intel, NVIDIA, IBM, Nielsen, AT&T, Hitachi and Juniper Networks have come to rely on our team to provide them with the highest quality in services and products.
About deepsense.io:
deepsense.io creates deep learning solutions for enterprises. The award-winning team of data scientists and engineers delivers state-of-the-art deep learning, machine learning and Big Data analytics. deepsense.io's flagship product Seahorse, a scalable data analytics workbench powered by Apache Spark, helps data scientists work more efficiently and intuitively by visually designing, editing and executing Spark applications. Neptune, deepsense.io's newest technology, is a machine learning platform designed to efficiently manage and monitor data science experiments. The company also runs on-site corporate machine learning and Big Data workshops offering intensive, fully customizable training programs.
Contact:
Barbara Rutkowska-Szczygieł
Brand Manager
T: +48 530 816 780
E: barbara(at)deepsense.io