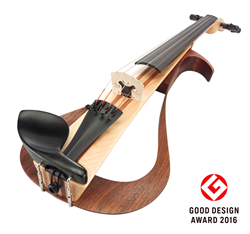 We strove for an instrument that could express a freer range of sound that includes classical music but also bridges genres, from jazz to rock music. (Keizo Tatsumi; YEV designer, Yamaha Design Lab)
BUENA PARK, Calif. (PRWEB) October 21, 2016
Yamaha Corporation of America, Band and Orchestral division, today announced that the Yamaha YEV Electric Violin Series is among seven of the company's newest products to receive Good Design Awards, one of the most prestigious product recognition programs of its kind.
The Yamaha YEV was selected from more than 4,000 entries received this year by the Japan Institute of Design Promotion, (JDP), which organizes the annual awards program. The innovative Yamaha violin was selected during a rigorous five-month screening process involving 76 international jury members. Screenings were held in Japan, South Korea, Taiwan and Hong Kong.
Conceived by Keizo Tatsumi of the Yamaha Design Laboratory and made primarily from wooden materials, the eye-catching Yamaha Electric Violins employ a sleek and airy Möbius strip-inspired design from front to back, making the instruments visual stand-outs on-stage. They also feature a rich, wood sound and the tactile resonance of an acoustic violin.
The YEV embodies the fundamental Yamaha design philosophy, which seeks to create products that realize four primary goals: to be loved and used for the long term; to gradually increase in value over time; to have simple designs; and to achieve a balance between carefully selected materials and a beautiful finish. There are four instruments in the series, with both four- (YEV104) and five-string (YEV105) models, in natural and black variations.
"We strove for an instrument that could express a freer range of sound that includes classical music but also bridges genres, from jazz to rock music," notes Tatsumi. "The resulting design has eliminated the instrument's resonating body, yet it boasts great features suited to performers on stage and explores new territory for the violin."
The Good Design Awards was established based on the belief that good design is essential to people's everyday lives. The primary factor for Award selection is whether or not the product can enrich society and people's lives.
"With the new YEV, Yamaha set out to introduce a new kind of electric violin – one that evokes traditional woodcraft, shaped with modern, elegant lines," said Ken Dattmore, marketing manager, strings, Yamaha Corporation of America. "It's gratifying that the YEV is being recognized not only as an extraordinarily versatile musical instrument, but also as a timeless piece of design."
Other Yamaha products earning Good Design Awards this year include "Omotenashi Guide," a universal sound support system (which earned the organization's 2016 "Best 100" distinction), the YRS/YRA/YRSA line of plant based plastic recorders, the NS-5000 Hi-Fi bookshelf speaker, the YSP-2700 digital sound projector, MA/PA, VXS and VXC series speakers, and a power-assisted wheelchair that performs music, jointly developed by Yamaha and Yamaha Motors. Since 1957, Yamaha products have earned 273 awards from the Good Design Awards.
For more information about the Yamaha YEV Electric Violin, please visit http://4wrd.it/YEV.