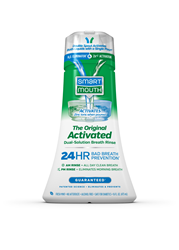 If you're using typical mouthwash that pours from a single bottle, your bad breath will be back quickly.
St. Louis, Missouri (PRWEB) October 25, 2016
The new bottle design overcomes a unique challenge presented by the science that powers the product — SmartMouth's two solutions must be kept separate until just before use, and then combined by the consumer in the proper balance. Earlier packaging consisted of two bottles, two pumps, a mixing cup and an instructional flyer. The new bottle features two bottles combined as one, with a dual-pour spout and twin chambers that allow both solutions to pour evenly and in the correct amount, thereby saving time and space both on consumers' counters and on retail shelves.
"If you're using typical mouthwash that pours from a single bottle, your bad breath will be back quickly," says Andrew Burch, CEO of Triumph Pharmaceuticals. "Typical products simply provide a minty feeling that temporarily masks bad breath. When it wears off a short time later, bad breath comes back. SmartMouth's unique scientific formula is different. When our two solutions are mixed, zinc ions are released that not only eliminate bad breath but prevent it from coming back for 12 full hours. That's why our product, our bottle, and our results are different from, and superior to, run-of-the-mill mouthwashes."
SmartMouth's patented two-solution oral rinse stops bad breath by destroying sulfur gases commonly found in the mouth. When mixed together, the Sulfur Eliminating Solution and the zinc-rich Activating Solution activate zinc ions that block germs from producing sulfur. Rinsing with the combined solutions releases zinc ions that eliminate bad breath and prevents it for 12 hours. Used in the morning and at night, SmartMouth can provide clean, fresh breath for a full 24 hours.
The awards garnered for SmartMouth by their packaging partners TricorBraun and Nottingham Spirk are: the National Association of Container Distributors (NACD) Bernard M. Seid Best of Show Award, the AmeriStar Package Award in the Household Category, and the Packaging Consortium (PAC) Global Leadership Award for Non-Food Brand Revitalization.
SmartMouth Oral Rinse has three formulas, all of which feature the new bottle design: Original Activated, Clinical (Gum & Plaque) and new Dry Mouth. Their bad breath prevention product line also includes travel packs, toothpaste, tongue cleaners and mints. SmartMouth is available at Walmart, Walgreens, Target, CVS and most drugstores and supermarkets. For more information, visit http://www.smartmouth.com.
About Triumph Pharmaceuticals
Triumph Pharmaceuticals, Inc., manufactures and markets SmartMouth premium branded oral rinses, toothpaste and mints through national retailers and online. Headquartered in St. Louis, Missouri, Triumph Pharmaceuticals and its SmartMouth brand have specialized in bad breath prevention since 1993.