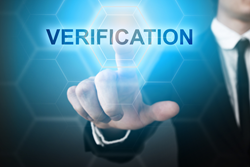 ID.me's network approach to identity makes it possible to onboard new customers more efficiently and securely
Washington, DC (PRWEB) October 21, 2016
ID.me, a leading identity provider for federal agencies and large consumer brands, today announced a new product offering that will make it easier for financial services organizations to onboard new customers while complying with Know Your Customer, Anti-Money Laundering, and fraud prevention requirements. The solution -- the ID.me Identity Gateway -- leverages ID.me's status as an approved identity provider to the federal government and component integrations with best-in-class vendors for: remote document verification, Mobile Network Operator data, biometric authentication, Credit Bureau based attribute validation, and fraud prevention algorithms. With a single integration to ID.me's platform, financial services organizations can streamline account onboarding and activate multiple vendors without integrating with each vendor directly.
Tony Huynh, ID.me's Vice President of Engineering, noted, "We designed our platform to reduce friction and risk during the account onboarding process. Typically, increasing friction to reduce fraud leads to an increased abandonment rate and lower conversions, but ID.me's network approach to identity makes it possible to onboard new customers more efficiently and securely."
A Fortune 100 financial institution is currently integrating ID.me's Identity Gateway to streamline account onboarding. Earlier this year, the United States Department of Commerce, the United States Department of Veterans Affairs and the United States Department of Treasury selected the ID.me Identity Gateway to unify the onboarding and authentication experience for end users. In addition to KYC, AML/CFT compliance, the company also offers SCRA compliance as a service through the platform.
For more information on the ID.me Identity Gateway, please click here. Additionally, ID.me will exhibit the Account Opening solution at the Money 20/20 conference this Sunday.
About ID.me
ID.me accelerates the secure verification of an applicant's identity to just 3.5 minutes. By leveraging remote verification of physical IDs, MNO data, along with fraud detection algorithms and a suite of compliance checks including KYC, AML/CFT, and SCRA, ID.me's federally accredited Identity Gateway makes account opening faster, more efficient and more secure.