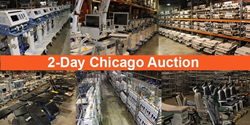 Franklin Park, IL (PRWEB) October 23, 2016
Centurion Service Group's 2-Day Chicago auction is on Tuesday, October 25 & Wednesday, October 26, 2016 with both online and on-site bidding options.
Registration information and the complete list of medical equipment can be found here!
Auction Date: Tuesday, October 25 & Wednesday, October 26 at 9am CDT
Inspection Date: Monday, October 24 from 8am-4pm CDT
Equipment Removal: Thursday, October 27-Friday, November 4 from 7:30 AM - 3:30 PM CDT
Auction Location: 3325 Mount Prospect Road Franklin Park, IL 60131
Equipment includes beds, exam, stretchers, obstetrics, infusion, respiratory, lab, surgery, endoscopy, cardiology, central sterile, patient monitoring, anesthesia and radiology!
Who is Centurion Service Group?
Centurion Service Group is the innovative company behind the world's largest used medical equipment auction house. They empower buyers to purchase from the largest inventory, with no minimum or maximum restrictions, and a fast and easy auction process.
Based in Chicago and with locations in Las Vegas and South Florida, Centurion Service Group is internationally known as an industry leader specializing in surplus used medical equipment auctions. Selling more than 100,000 pieces of medical equipment every year, they have been rated the largest medical equipment auction house in the world. Whether it is your first time bidding at an auction or you are a long-time customer, Centurion Service Group offers resources to assist you during different steps of the auction process.
To purchase through their live and timed auctions, please visit their Buyer Resources Guide to learn more!
For more information on upcoming auctions, please visit http://www.centurionservice.com or contact them at (708) 761-6655 or info(at)centurionservice(dot)com
MORE EQUIPMENT. LESS WORK.