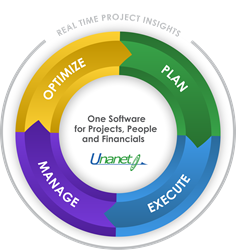 Unanet is a proud sponsor of the symposium, and will be exhibiting Unanet Financials at this annual conference as an alternative to legacy systems
Dulles, Virginia (PRWEB) October 21, 2016
Regan Johnson, Vice President at the Griffiss Institute, a Unanet customer, has been invited to speak at the event. Ms. Johnson has been with the Griffiss Institute for more than 8 years and began using Unanet in 2014. Ms. Johnson will present a session with Chris Craig, Unanet's President, entitled "One Software for Project-Driven Non-Profits" that will combine insights on Griffiss Institute's journey to improve their project and financial management processes, with a demonstration of Unanet capabilities that benefit the special needs of non-profits.
Unanet is a proud sponsor of the symposium, and will be exhibiting Unanet Financials at this annual conference as an alternative to legacy systems for project-based businesses. Unanet will be exhibiting at Booth 16. For project-based organizations of all sizes, Unanet helps improve project delivery while complying with Federal Government Regulations, and meeting accounting requirements. Please visit http://www.unanet.com for more information regarding how Unanet benefits its over 1000 customers.
About Unanet:
Unanet is a leading provider of Cloud and On-Premise software for project-based organizations. Unanet delivers a purpose-built Project ERP solution with skills management, resource planning, budgeting & forecasting, time & expense reporting, billing & revenue recognition, project management analytics and dashboards, and integrated financials with AR, AP, GL and cost pool calculations. Over 1.,000 organizations trust Unanet to maximize staff utilization, reduce administrative costs by 90%, improve invoicing by 10X, and support forward decision-making for improved operations. Unanet has several videos available if you would like to learn more about our firm and capabilities http://www.unanet.com/products/video-demonstrations.