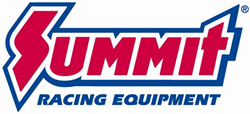 Tallmadge, OH (PRWEB) October 24, 2016
Summit Racing now carries OTB Gear Hot Rod Accessories. Ideal for 1940s and '50s-style hot rods, OTB makes all sorts of parts that are faithful to the old school vibe--it designs and manufactures each piece to the highest quality standards.
Air Cleaners
Crafted from aircraft-grade aluminum, OTB air cleaners are fitted with OTB's Platinum Series filter elements with stainless steel mesh that sparkles in the sunlight. Choose from 11 designs for the following:

Stromberg 94/97/98 carburetors
Single two-barrel and four-barrel carburetors
TWM/Borla, Inglese, and Imagine throttle body EFI
Remote Fluid Reservoirs
OTB Gear's remote fluid reservoirs are ideal for brake and hydraulic clutches and can be plumbed from the back or the bottom. That makes it easier to mount one where it fits best. The aluminum reservoirs are available in single, double, and triple versions with a satin or polished finish.
Gauge Panels
The Bomber Series five- and six-gauge panels feature a quarter-inch thick aluminum baseplate that can be fitted with a smooth aluminum or engine turned stainless steel faceplate. The faceplate attaches to the base with stainless steel rivets. That allows enthusiasts to paint or anodize the faceplate without having to take the panel apart. Take a choice of B-17 oval or B-24 rectangular panels that accept 3 3/8 and 2 1/16 inch diameter gauges.
The cast gauge panels are made from aircraft quality cast aluminum with a deeply finned design. The valleys between the fins have a textured finish that readily accepts paint to produce a contrasting finish. The oval in-dash panels are available in five-and six-gauge versions that fit any flat dash surface. Summit Racing has matching underdash panels that hold one, two, three, or four 2 1/16 inch diameter gauges.
Engine Oil Dipsticks
OTB Gear dipsticks feature a polished aluminum knob and a natural or chrome plated tube. Choose from classic acorn, 1940s style, or sprocket knob designs. Dipsticks are available for small block Chevy, big block Chevy, and small block Ford.
Summit Racing also carries OTB Gear fuel filters, radiator caps, valve covers and breathers, differential covers, overflow tanks, and even slingshot style dual carb manifolds for Ford flathead V8s.
Summit Racing Equipment
http://www.summitracing.com
1-800-230-3030