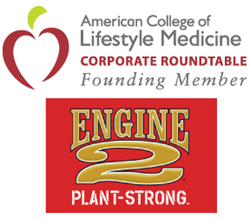 Joining the ACLM roundtable gives us the perfect opportunity to align our exciting vision with the leaders of the lifestyle medicine movement.
Naples, FL (PRWEB) October 21, 2016
As more than 600 physicians and allied health professionals from across the U.S. and around the world gather, starting this weekend, in Naples, FL for Lifestyle Medicine 2016, the American College of Lifestyle Medicine (ACLM) announced today the addition of Engine 2 as the newest Founding Member of its Lifestyle Medicine Corporate Roundtable (CRT).
In the face of an epidemic of chronic, largely preventable disease, ACLM established the Lifestyle Medicine Corporate Roundtable, bringing together foresighted entrepreneurial, industry, medical and academic thought leaders for strategic collaboration focused on advancing the lifestyle medicine movement. The end goal: sustainable health and sustainable healthcare.
"At Engine 2, we are working to change the American diet for good. We are confident that by partnering with the American College of Lifestyle Medicine's corporate roundtable, we will succeed in reaching as many people as possible with our simple message: Eat Plants and Rescue Your Health. Joining the ACLM roundtable gives us the perfect opportunity to align our exciting vision with the leaders of the lifestyle medicine movement," said Rip Esselstyn Founder of Engine 2. "We know the future of healthcare relies on bridging the gap between the prescription pad and the produce department—and we're committed to serve as the conduit to this patient-value model, giving everyone access to this life-saving information. If a group of BBQ-loving Texas firefighters can be plant-strong, anyone can do this!"
ACLM President David Katz, MD is known to define lifestyle medicine as "feet, forks, fingers, sleep, stress and love," always emphasizing that food trumps all. "I'm delighted to welcome Engine 2 to our ACLM Corporate Roundtable. Who better than an organization like Engine 2 to partner with us in our quest to transform health and redefine healthcare, built on the solid foundation of—using Engine 2's words—a 'plant-strong' diet?"
ACLM's Corporate Roundtable is comprised of lifestyle medicine thought leaders representing healthcare delivery system stakeholders, as well as providers of products and services that are committed to the cause of lifestyle medicine. The roundtable provides a platform for engagement with ACLM leadership and partners in charting strategy around key lifestyle medicine initiatives, including a campaign to call out the urgent need for reimbursement of intensive therapeutic lifestyle medicine interventions, as well as a campaign to heighten awareness about lifestyle medicine being a vital solution in addressing global health and healthcare sustainability.
ABOUT ENGINE 2
Engine 2 is working to change the American diet for good by providing an easy-to-follow, myth-busting path to heart-healthy plant-strong living. Founded by #1 New York Times best-selling author and former firefighter, Rip Esselstyn, Engine 2 provides resources, education and events demonstrating the powerful benefits of eating the strongest food on the planet. With an exclusive food line at Whole Foods Market, Engine 2 strives to make the healthy choice the easy and tasty choice. We want everyone to know that a plant-strong eating plan can help you improve cardiovascular health, control blood sugar, reduce cholesterol, maintain a normal weight, and increase overall energy and wellbeing. The fork-driven approach to personal healthcare is the most powerful medicine that physicians can prescribe to their patients! For more information, please visit: http://engine2diet.com/
ABOUT THE AMERICAN COLLEGE OF LIFESTYLE MEDICINE
ACLM is the professional medical association for those dedicated to the advancement and clinical practice of Lifestyle Medicine as the foundation of a transformed and sustainable healthcare system. More than a professional association, ACLM is a galvanizing force for change. ACLM addresses the need for quality education and certification, supporting its members in their individual practices and in their collective desire to domestically and globally promote Lifestyle Medicine as the first treatment option, as opposed to a first option of treating symptoms and consequences with expensive, ever increasing quantities of pills and procedures. ACLM members are united in their desire to identify and eradicate the cause of disease. Join today at http://LifestyleMedicine.org or learn more about the Lifestyle Medicine 2016 conference and the 2nd Annual Healthcare Transformation Summit at http://LifestyleMedicine2016.org.