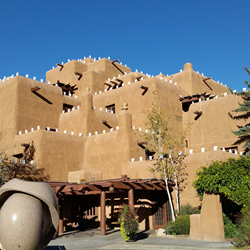 We are happy to participate in this important effort to bring attention to an important healthcare issue in our country and world. -Regina Martinez-Ortiz, Director of Sales & Marketing, Inn and Spa at Loretto
Santa Fe, New Mexico (PRWEB) October 21, 2016
In alignment with the efforts of the Alzheimer's Foundation of America and Alzheimer's Awareness Month in November, the Inn and Spa at Loretto will light up their property with thousands of green luminarias, joining over 120 of the world's most prominent landmarks in recognition of the initiatives to treat and cure the deadly disease. The building will be lit from November 3, 2016 through the holiday season.
A reception and lighting ceremony will be open to the public and take place on November 3, starting at 4:30 pm with the lights being turned on at 6:30 pm. Appetizers and a commemorative cocktail, the Mindful Spirit, will be served in the Living Room with 20% of proceeds from the drink going to the New Mexico chapters of the Alzheimer's Foundation of America. The cocktail will be available through November.
There are more than five million Americans living with Alzheimer's disease. The disease is the sixth most common cause of death in the United States, and the only one of the top 10 without a cure or meaningful treatment. On November 3, in honor of National Alzheimer's Awareness Month, landmarks across the country and around the world will light up teal. This is the third year of the campaign, which is an initiative of the Alzheimer's Foundation of America (AFA). This year, more than 120 landmarks in the U.S. and around the globe are participating.
"By turning their facades teal, landmarks across the country and around the world are literally shining a light on the problem that is Alzheimer's and raising awareness of the need for funding for a cure and caregiver supports," said Charles J. Fuschillo Jr., AFA's president and chief executive officer. "People can join New York, Chicago, China, England, Ireland, and Australia by replacing their porch or indoor lights with teal bulbs for the day."
"We are happy to participate in this important effort to bring attention to an important healthcare issue in our country and world," said Regina Martinez-Ortiz, Director of Sales & Marketing. "The prominent façade of our building is a beautiful place to honor the important work of the Alzheimer's Foundation of America, especially since so many of us are effected by this disease."
Other participating landmarks include LAX Airport in Los Angeles; the Wrigley Building in Chicago; Mercedes Benz Superdome in New Orleans; Prudential Center and TD Garden in Boston; Granite Tower in Billings, Mont.; Miracle Mile Shops at Planet Hollywood in Las Vegas; Coney Island/Luna Park in Brooklyn, N.Y.; the Consolidated Edison Building, Empire State Building, Madison Square Garden, New York Stock Exchange, and New York Times Building in New York; the Duke Energy Center and NASCAR Hall of Fame in Charlotte, N.C.; Terminal Tower in Cleveland; Myriad Gardens in Oklahoma City; Commerce Square in Philadelphia; Country Music Hall of Fame in Nashville, Tenn.; The Merc in Dallas; Bell Tower in Perth, Australia; the Skylon Tower in Niagara Falls, Canada; Sichuan Tower in China; and Trafalgar Square in London, England.
For press inquiries including image requests, please contact:
Jennifer Hobson-Hinsley
JLH Media
505 603 8643
Jennifer(at)jlhmedia(dot)com
###
ABOUT THE INN AND SPA AT LORETTO, A DESTINATION HOTEL: The Inn and Spa at Loretto, an award winning, AAA Four Diamond hotel, is ideally located in the heart of Santa Fe, steps from the Canyon Road galleries and just one block from historic Santa Fe Plaza's galleries, museums, and boutiques. Eloquently blending old-world charm with world-class splendor, the exquisite Inn and Spa at Loretto reflects the culture and sophistication of its historic Santa Fe location. The hotel features 136 guestrooms, a full-service spa, casual modern dining, three art galleries and a tranquil garden. Enjoy Luminaria Restaurant and Patio for three meals daily, The Living Room for happy hour, late night dining and live music and the Spa at Loretto for holistic and complete indulgence experience.
ABOUT DESTINATION HOTELS: Destination Hotels (Destination) is a collection of luxury and upscale independent hotels, resorts and residences across the United States. Offering authentically immersed and enriching experiences, each property is individual at heart, yet connected by a commitment to drawing upon the best of each location. Highly distinct, the Destination experience is always memorable and matchless; guests will feel the locale in a genuine way through each property and during the engaging moments cultivated both in and outside of them. Continuously growing with more than 40 properties from coast to coast, the award-winning portfolio features 20 renowned golf courses, 19 indigenous spas, and 130 exceptional bars and restaurants. Destination Hotels are true to our place; diverse by design. For more information, visit http://www.destinationhotels.com. Follow us on Twitter: @Destination. Like us on Facebook: DestinationHotels.
About Alzheimer's Foundation of America (AFA):
The Alzheimer's Foundation of America, based in New York, is a non-profit organization that unites more than 2,500 member organizations nationwide with the goal of providing optimal care and services to individuals living with dementia, and to their caregivers and families. Its services include a national, toll-free helpline (866-232-8484) staffed by licensed social workers, educational conferences and materials, a free quarterly magazine for caregivers and "AFA Partners in Care" dementia care training for healthcare professionals. For more information about AFA, call 866-232-8484, visit http://www.alzfdn.org, follow us on Twitter, or connect with us on Facebook or LinkedIn.