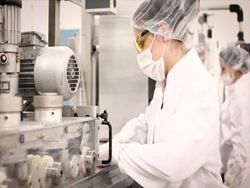 When weightlifters lift weights, they take supplements for their muscles to make them stronger. Why would I not take the best brain supplement available, when my brain does the heavy lifting 18 hours a day?
Los Angeles, CA (PRWEB) October 25, 2016
It's 4am on a Tuesday morning. After only 3 hours and 48 minutes of sleep, Michael wakes up, takes a handful of pills, and follows it up with a large glass of water. This is the morning routine for many American men in today's modern society. "I am fine sleeping under 4 hours and crushing my day. I don't drink coffee or take stimulants either," says Michael - a Chief Technical Officer and ISO BRAIN Client.
"About a year ago I started taking ISO BRAIN to help with brain function because I put my brain through hell. When weightlifters lift weights, they take supplements for their muscles to make them stronger. Why would I not take the best brain supplement available, when my brain does the heavy lifting 18 hours a day? Now I don't know how I lived without it."
Surprisingly, this is the case with many young men looking for the extra advantage in a world more competitive than ever before.
So what is ISO BRAIN? What are smart drugs, nootropics, and brain supplements? Is there a memory pill that can help you remember? These are just a few of the questions that people are looking into and the results they are finding are rather interesting. But first, we need to get a few definitions out of the way.
Nootropics -The word nootropic was coined by Romanian psychologist and chemist, Corneliu E. Giurgea, from the Greek words meaning to bend or turn the mind. Nootropics are synthetic compounds that improve the cognitive abilities of healthy individuals. They must not be harmful, have significant side effects or be addictive.
Prescription Nootropics - This covers a wide range of Nootropics such as Modafinil, also known as Alertec, Modavigil or Provigil. Modafinil was originally designed for narcolepsy patients.. This prescription can cost as much as $15 a day and can have some potentially harmful side effects. Some people have turned to the grey market and have received tablets cut with other banned substances or sometimes even illegal drugs. Also, being that this is a narcolepsy drug, it has been known to drastically affect a person's sleep cycle. These negative side effects have typically proven to outweigh any possible benefits.
Racetam - This subclass of Nootropics usually involves the grey market and unregulated market. Racetams have been banned from the US. Pretty much all major retailers such as Amazon, CVS, Walmart, and Target have pulled all products from their stores years ago. Many online sellers still exist, but they are not required to follow FDA guidelines.
Stimulants - Prescription Stimulants are NOT NOOTROPICS because of drastic negative side effects to the brain and body. Adderall and Ritalin are DEA Schedule II substances. This means, they have a "high potential for abuse," can "lead to severe psychological or physical dependence," and are considered "dangerous" (less than heroin, more than Valium). Weaker stimulants such as coffee and green tea have been considered generally safe.
Over the Counter Nootropics - These are generally considered safe Nootropics and brain supplements. Products available over the counter are manufactured in a Good Manufacture Practice facility that follows all FDA guidelines.
Los Angeles based startup Enrichment Labs LLC is one of the newest companies on the market, and maker of an over the counter nootropic known as ISO BRAIN. "We are very excited to be in this new and revolutionary supplement category. I have always been passionate about brain hacking and this is a dream come true," says Donavon Warren, CEO of Enrichment Labs LLC., maker of ISO BRAIN. "Our goal is to be the #1 best brain supplement company with the best product. People have finally realized what enhancing your brain could mean to your life. We give the customers what they want, and the response has been terrific. We just launched an Amazon and have expanded to other retailers. Growth has been phenomenal!"
And it seems to be working "ISO BRAIN #1 Winner of best new Nootropic of 2016" by http://www.NootropicVitamins.com
How does it work? ISO BRAIN is a stack of 15 ingredients that work in a variety of ways. This brain stack is formulated to help with Memory, Focus, Clarity, Mood, and Energy. Some ingredients in ISO BRAIN have been shown to help with blood flow to the brain, provide amino acids that naturally occur in the mitochondria, provide nutrients on a cellular level, are precursors to neurotransmitters (which have been linked to better memory on some tests), some have even been used to treat depression and much, much more.
"A friend told me about it, so I bought it from isobrain.com and I was blown away! My memory and focus went through the roof! I also love that they are upfront with their customers, that's why everyone can see the full list of ingredient amounts. So you know you are not getting all the cheap stuff," commented Sean, another ISO BRAIN client. Most supplement companies use what is known as a Proprietary Blend. A Proprietary blend is said to protect the company by not showing ingredient amounts, but many believe that it's only to hide the fact that the company is putting more of the cheap ingredients less of the expensive ones into the supplement. Proprietary blends are legal but frowned upon by customers. ISO BRAIN does not have a proprietary blend and has a "100% Transparency Promise" showing all the ingredients in their bottles.
"You get more. They also have way more ingredients and ingredient amounts than anything out there," says Brandon, another ISO BRAIN client and current pre-law college student. "15 ingredients and 4 pills a day is a full brain stack. If I had to buy all those ingredients individually, it would cost a fortune and take way too much time. It's also not speedy or jittery. There is less caffeine in ISO BRAIN than in a decaf cup of coffee. They have everything covered. And I love the brain teaser puzzles I get with the Monthly membership." When asked what it is like to take ISO BRAIN he said, "It's like the fog went away."
ISO BRAIN is not just for the young and ambitious. Jean, a retired grandmother and ISO BRAIN client, commented, "It really helps me remember things I used to forget. I used to feel like my memory was not working as well, like I had memory loss. I couldn't find my keys. I would forget things at the grocery store. I hated that feeling, but I don't do that anymore." Some of the ingredients ISO BRAIN uses to help memory loss have been tested and shown to help Alzheimer's patients with memory loss, ingredients such as Vinpocetine, Acetyl-L-Carnitine, Magnesium, Bacopa Monnieri, B12, Choline, and Green Tea.
Warren says, "We could have saved a ton of money by going with only 1 or 2 capsules a day instead of 4. But we wanted to be the best and that's what the research told us. You can see all the ISO BRAIN clinical research on our site. Some of it was even done by the U.S. Department of Defense for Aerospace and Military research. We are an open book."
ISO BRAIN ingredient list: B3 (Niacin), B12, D3, Magnesium, CoQ10, Ginkgo Biloba, DMAE, Bacopa Monnieri, L-tyrosine, Vinpocetine, 5-HTP, Green Tea, Choline, Inositol, and Acetyl-L-carnitine.
ISO BRAINs CEO states, "We only want the best for our clients. That's the only way they are going to be the best. If they are out there winning, we are winning. It's as simple as that. We have our 100% transparency promise showing everyone all 15 ingredients and the exact amounts of our brain stack ISO BRAIN. We also don't cut corners by only giving 1 or 2 pills per serving. It's 4 pills to give you the maximum cognitive benefit based on the research that has been conducted; we don't want a placebo. We even go as far as to put BRAINTEASER puzzles in all of our monthly membership packages and our clients absolutely love them. We didn't go cheap on anything. Our product is made in the USA and we even offer a 90-day money back guarantee. You should give it a try. If you don't like our product, you can get a full refund."
The new ISO BRAIN supplement is available internationally on http://www.isobrain.com and on Amazon.com http://www.amazon.com/shops/isobrain.
@isobrain #isobrain #hackyourbrain
ISO BRAIN is made in the USA in Southern California by Enrichment Labs at a GMP facility that follows all FDA guidelines.
ISO BRAIN is available in 3 sizes and a Monthly Membership Option -
7 Day Supply – 28 Capsules
15 Day Supply – 60 Capsules
30 Day Supply – 120 Capsules
Monthly Membership – 30 Day Supply delivered every month for a discounted price, with free shipping and free brain teaser gifts.