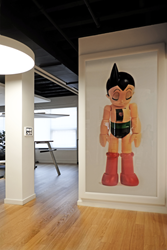 "Outstanding Showroom Experience"
New York, NY (PRWEB) October 25, 2016
OneButton, a boutique technology design and integration firm based in New York City, is pleased to announce that it has been awarded the "Outstanding Showroom Experience" Excellence Award by Lutron Electronics, maker of energy-saving, wireless light and shade control. The announcement was made September 15th in Dallas, Texas at the CEDIA trade show. OneButton's award entry highlighted their work at Belgian design collective and showroom, Ernest, located at 255 Fifth Avenue in Manhattan.
About OneButton (http://www.onebtn.com)
OneButton is a technology design firm founded by a physicist and an artist, Matt Emmi and Michael Izatt. The firm is equally informed by Matt's expertise in acoustics and electronics and Michael's vision for art and design. OneButton crafts elegant audio-video and home automation solutions that simplify sophisticated controls, complement users' lifestyles, and contribute to an aesthetic whole. Our team of creative professionals engineer minimalist designs, intuitive experiences, and timeless tasteful environments.
About Ernest NY (http://www.ernestny.com)
Opened in May 2016, Ernest is a collective of Belgian and European architectural, design, and furniture brands. OneButton was invited to lend its expertise to engineer the relationship between technology and visitor experience within the Ernest showroom. Versatile lighting and automation systems were designed for client presentations, private events, and daily office use to utilize the space to its full potential.
About Lutron Electronics (http://www.lutron.com)
Established in 1961, Lutron Electronics is headquartered in Coopersburg, Pennsylvania. From dimmers for the home, to lighting management systems for entire buildings, the company offers more than 17,000 energy-saving products, sold in more than 100 countries around the world.
Founded in 2003, the Excellence Awards competition recognizes the world's best total home control projects using Lutron light, shade, and temperature controls, appliance modules, third-party equipment and more. This year's competition received dozens of entries from all around the world and was judged by a panel of industry journalists.
"It gives me great pleasure to recognize these stellar companies," said Michael Smith, Vice-President of Sales at Lutron. "These installers are taking care of their customers with innovative, problem-solving control solutions and helping them improve a home's energy efficiency while creating a beautiful yet functional space."