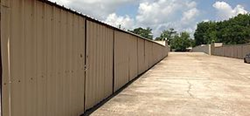 We offer boat and rv storage at reasonable prices.
Houston, TX (PRWEB) October 22, 2016
AA Self & Boat Storage, located in Houston, Texas, proudly announces that it is now offering enclosed recreational vehicle storage. The new units are conveniently located off of Interstate 10, in the Spring Branch/ Memorial area.
Each unit is self contained where the tenants has sole access to their own unit to store their recreational vehicle. Camper recreational vehicles benefit from the covered parking and enclosed unit. The higher roof height allows for taller recreational vehicles, including off-road vehicle storage placed on top of a trailer. The facility has wide driveways in order to maneuver and to ensure easy access to parking. To help with dust and dirt control, each unit has concrete floors, rather than crushed shell or dirt floors that cause problems.
Beyond these features, the level of customer service is what separates AA Self & Boat Storage from the competition. "As a family run business, we provide our personal touch with each tenant, but without actually physically touching anyone." Quipped Carlton Ahrens, President of the company.
The facility serves customers from a variety of Houston areas, including Memorial, Spring Branch, Bellaire, West University, The Heights and Montrose. The proximity to Interstate 10 allows for convenient access to all central Houston neighborhoods.
The facility has a fenced perimeter with a keypad access gate, video cameras and well lit at night.
AA Self & Boat Storage accepts most all credit cards and is family owned and operated. For more information please call 713-467-0590