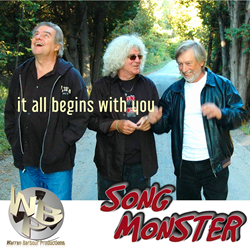 …OMG… it is beautiful…"Here in my Heart"….. the sound is soft and gentle and there is so much tenderness in the presentation.… I love the words and the music… thank you so much for sharing this….it is a work of art…
Kanata, Ontario (PRWEB) October 25, 2016
The 1970s were the heydays of vocal power rock splendor and in Canada it was no different. In 1974, MCA Records Canada signed a band from Ottawa, ON Canada that went by the name of Octavian. Over the next 4 years, 1 album and 6 singles were released attaining national attention and moderate success. But it was not to last. Family planning soon became the band's priority, and that meant leaving the road.
Today, 3 seasoned musicians from that band have reunited to form Song Monster, bringing a lifetime of experience and know-how with them. Song Monster's prime elementary genre is neo-power pop/rock vocal harmony, delivering introspective lyrics in sophisticated harmony arrangements against solid rock instrumental backings. But in practice, their music really has no hard boundaries. It appears that every song that they choose to deliver has its own unique identity and sound, but they are all tied together in an unmistakable brand that can only be labelled 'Song Monster'.
Still based in Canada's capital city, Ottawa, producer/arranger Warren Barbour is a vocalist, guitarist, bassist, keyboardist and a two time BMI award winning composer. Peter McLean is a vocalist and guitarist. Chuck Kerr is a vocalist and drummer/percussionist. Together as Song Monster, Chuck, Peter and Warren have already released two singles and have been delighting music aficionados worldwide.
Please get in touch with Warren at warren@songmonsterrocks.com for interviews or promotional copies of the Song Monster album "It All Begins With You".
https://www.facebook.com/SongMonsterRocks/
https://www.youtube.com/channel/UCLUNmGCSH_p7Xb19G90N12A
https://twitter.com/Song_Monster
###