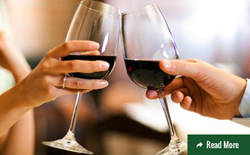 The combination treatment of cisplatin and resveratrol synergistically induced apoptosis ...
Raleigh, NC (PRWEB) October 22, 2016
A new study conducted in Korea suggests that a polyphenol called resveratrol, which is found in wine and red grapes, may make pleural mesothelioma cells more susceptible to the effects of the chemotherapy drug cisplatin. Surviving Mesothelioma has just posted an article on the new research. Click here to read it now.
Doctors from Soonchunhyang University in Cheonan, Korea treated two kinds of mesothelioma cells with a combination of cisplatin and resveratrol. The results suggest that resveratrol may have a role to play in mesothelioma survival.
"The combination treatment of cisplatin and resveratrol synergistically induced apoptosis [natural cell death], as evidenced by typical cell morphological changes," reports lead investigator, Dr. Yoon-Jin Lee.
The new study, published in Food and Chemical Toxicology, is the latest in a growing body of research - much of it conducted by Lee and his team - on the impact of resveratrol in the treatment of malignant mesothelioma.
"We have long heard that there are cancer-fighting compounds in red wine, but this research takes that idea a step further, incorporating the key ingredient in a mesothelioma chemotherapy combination with encouraging results," says Alex Strauss, Managing Editor for Surviving Mesothelioma.
For more details on the new study and to learn why drinking more red wine is not a strategy for improved mesothelioma survival, see Experimental Treatment Targets Pleural Mesothelioma with Compound in Red Wine, now available on the Surviving Mesothelioma website.
Lee, YJ, et al, "Cisplatin and resveratrol induce apoptosis and autophagy following oxidative stress in malignant mesothelioma cells", August 31, 2016, Food and Chemical Toxicology, Epub ahead of print, http://www.sciencedirect.com/science/article/pii/S0278691516303076
For nearly ten years, Surviving Mesothelioma has brought readers the most important and ground-breaking news on the causes, diagnosis and treatment of mesothelioma. All Surviving Mesothelioma news is gathered and reported directly from the peer-reviewed medical literature. Written for patients and their loved ones, Surviving Mesothelioma news helps families make more informed decisions.