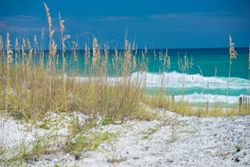 Starting November 1, you have exactly 61 days, or nine weekends, to use up those remaining personal days. Why not spend your remaining days on Florida's Best Beach?
Pensacola, Fla. (PRWEB) November 01, 2016
The New Year is fast approaching, and with it, all unused personal days will expire. Starting Tuesday, Nov. 1, most employees have exactly 61 days, or nine weekends, to use up their remaining personal days. Why not spend them on Florida's Best Beach?
Located in the northwest region of Florida along the Gulf of Mexico, Pensacola is not only home to pristine sugar-white beaches – it's also America's first settlement, the home of the award-winning National Naval Aviation Museum and the Blue Angels.
Visit Pensacola looks forward to welcoming visitors during the best time of year to visit - when the weather is cool, the beaches are not crowded, and the event calendar is brimming with festivals, arts and seasonal celebrations — all for the best bargains available. But hurry up. The clock is ticking.
NOVEMBER
Frank Brown International Songwriters' Festival
November 3 – 13, 2016
The Frank Brown International Songwriters' Festival is where music lovers meet music legends in a variety of venues across the Gulf Coast. This amazing festival has been bringing more than 200 nationally-acclaimed songwriters to the Pensacola Bay Area every year for 32 years. The event was actually named after Frank Brown, who was the night watchman at the Flora-Bama (headquarters for the event) for almost 30 years. Grammy Award-winning songwriters and artists perform original songs and talk about the stories behind them in this popular music festival that utilizes performance venues from Downtown Pensacola to Perdido Key.
Pensacola Foo Foo Festival
November 4 – 14, 2016
Fall is one of the best times of the year to visit the Pensacola Bay Area, and the Pensacola Foo Foo Festival is timed perfectly, when a cooler breeze is back in the air. Foo Foo Fest is a 12-day celebration of culturally creative happenings, events and moments under one banner, attracting visitors to beautiful Pensacola. Foo Foo Fest is big fun, with events of high artistic and cultural caliber, delivered with a hefty dose of Southern sophistication. The festival encompasses everything from the Pensacola Opera, Pensacola Symphony Orchestra and The Choral Society of Pensacola; to the Frank Brown Songwriter's Festival, the Back on the Blocks Festival: Soulful Short Film Fest and the Pensacola Little Theatre's presentation of The Rocky Horror Show; to the Pensacola Marathon and the Blue Angels Homecoming Air Show.
Great Gulfcoast Arts Festival
November 4-6, 2016
Ranked as one of the "Top 20 Events in the Southeast," this juried art show brings nationally-known artists to historic Seville Square in Downtown Pensacola. This three-day juried arts festivals is one of the most popular in the United States. Every year, more than 200 of the most talented painters, sculptors, jewelers, craftsmen and graphic artists come to show off their finest works. With historic Seville Square as the backdrop, enjoy a beautiful fall day browsing rows and rows of artwork under the shade of beautiful oak trees. There are also tons of great food options, live entertainment and fun activities for the kids. The event is free and runs from 9 a.m. to 5 p.m.
Back on the Blocks Festival –
November 5, 2016
Bring the whole family to the historic Belmont Devilliers District to enjoy dancing, music, art and more at the Back on the Blocks festival. Since the 1800s, this predominantly African-American neighborhood of downtown Pensacola has played an incredible role in many cultural arenas, but especially in music. Some of the greatest jazz, soul and Motown performers of all time have played in this neighborhood, which has even been called the "Harlem of the South." B.B. King, Etta James, Ike and Tina Turner, and James Brown are just a few of the famed performers who have graced the stages of performance venues in Belmont Devilliers. These musical achievements and much more will be celebrated at the Back on the Blocks Festival, and you certainly won't want to miss it.
Blue Angels Homecoming Air Show
November 11-12, 2016
"The Cradle of Naval Aviation," Naval Air Station Pensacola, welcomes home the U.S. Navy's world-famous elite flight demonstration squadron, the Blue Angels, in November at the annual 2016 Blue Angels Homecoming Air Show. The Blues' final performance of the season takes place at Sherman Field aboard NAS Pensacola during the two-day event on Nov. 6 and 7. The event is free to the public; however, preferred seating tickets are on sale now. The show features dozens of static displays, allowing spectators the chance to get up close and personal with participating pilots and their aircraft. The Homecoming Air Show takes place right outside of the award-winning National Naval Aviation. After the Blues fly, they'll head to the flight line to sign autographs.
Pensacola EggFest
November 13, 2016
Does the idea of 100 Big Green Egg grill ovens lined up in a beautiful, bayfront stadium sound like something your dreams are made of? Head over to Blue Wahoos Stadium where you will be able to sample amazing barbeque and even learn a thing or two at their cooking demonstrations. Ticket includes tastings, entertainment and the demonstrations. Sounds like a pretty amazing way to do lunch, don't you think? The event will start at 11 a.m. and end at 2 p.m. Buy tickets in advance for $25 or at the gate for $35. Children under 10 are free.
Pensacola Marathon
November 13, 2016
Winding through Pensacola's historic neighborhoods and atop the bluffs overlooking Escambia Bay, the Pensacola Marathon is also a qualifier for the Boston Marathon. Held each year during Veterans Day weekend, the race begins and ends at the Veterans Memorial Park along Pensacola Bay. Close to 2,000 runners participate each year.
Historic Pensacola's Victorian Holiday Traditions Tours
November 15 – December 23, 2016
Learn more about life in the Victorian era and how it influenced modern holiday traditions by taking a guided tour of Pensacola's historic homes and buildings. Starting November 15 and lasting until December 23, every Tuesday through Saturday at 2:30 p.m., a selection of Pensacola's historical homes will be decorated for Christmas and a special Victorian Holiday Traditions Tour will be given of the homes. Tours last approximately 1.5 hours. Guests receive an in-depth tour of the 1805 French-Creole Lavalle House, the 1871 Dorr House, the 1832 Old Christ Church, and the 1890 Lear-Rocheblave House. Tours begin at the Tivoli High House.
First City Lights Festival
November 19 – January 2016
Downtown Pensacola comes alive in November with millions of dazzling holiday lights. Beginning November 19 and lasting through the end of January, visitors can stroll down Palafox Street, the main artery of the city, from Wright Street south to Plaza de Luna on Pensacola Bay, and take in the luminous scenery at night.
Pensacola Winterfest
November 25 – December 2016
Touted as "Christmas Fun for Everyone," Winterfest is a month-long celebration of the Christmas season that kicks off with an Elf Parade featuring Santa and a ceremony to light the city's Christmas tree. Winterfest trolley tours, featuring different characters, holiday themes and sing-alongs, take visitors on spirited tours of Pensacola. The lively, music-filled Christmas trolley tours provide family-friendly entertainment and the chance to get close to Santa Claus, Frosty and other classic Christmas characters.
DECEMBER
Pensacola Beach Lighted Boat Parade
December 3, 2016
Pensacola Beach hosts several coastal Christmas themed events with Santa sightings including the beautiful, nighttime Pensacola Beach Lighted Boat Parade on Saturday, Dec. 3, at 6:30 p.m. The sparkling vessels will sail through the dark December sky and create a pleasant scene to launch the Christmas season. The parade starts at Little Sabine Bay and travels around the Santa Rosa Sound to Pensacola Beach Boardwalk, where a dazzling display of fireworks will round out the event.
Surfing Santa Parade
December 4, 2016
Watch Santa oversee delightfully decorated whimsical floats as they wind their way down the main street on Pensacola Beach, sharing holiday joy with all who care to catch the spirit. The parade takes place Sunday, Dec. 4, at 2 p.m. from Via de Luna Drive on Pensacola Beach.
Snowball Derby
December 7-11, 2016
Big names in NASCAR racing and a host of competitive hopefuls compete in several days of racing that lead up to the popular Sunday afternoon race in sunny Pensacola—the Snowball Derby. It's a 300-lap Super Late Model race, and it attracts more than 10,000 visitors each year.
Christmas on the Coast holiday concert
December 9-11, 2016
The famous Pensacola Children's Chorus presents Christmas on the Coast, one of Northwest Florida's most popular holiday musical events, featuring pint size singers with perfect pitch, on Friday and Saturday, Dec. 9 and 10 at 7:30 p.m. and Sunday, Dec. 11 at 2:30 p.m. at the Pensacola Saenger Theatre.
Santa Drop
December 10, 2016
Bring the family and kids to see Santa drop from an airplane and parachute safely onto the snow-white beach behind the Flora Bama in Perdido Key, kicking off a daylong holiday celebration, including Christmas carols for the kids. The Santa Drop takes place Saturday, Dec. 10, at 10 a.m.
34th Annual Pensacola Christmas Parade
December 10, 2016
The Pensacola Christmas Parade brings the holiday sights and sounds through historic Downtown Pensacola. The parade draws more than 50,000 people each year and features 90 entries, including the Blue Angels, bands from across the Southeast, and dozens of floats. This year's parade takes place on Saturday, Dec. 10, beginning at 5:15 p.m.
The Nutcracker
Decenber 16-18, 2016
Ballet Pensacola's beautiful performance of The Nutcracker tells the traditional story of Clara and her dream of the Nutcracker Prince. Shows begin Friday, Dec. 16 through Sunday, Dec. 18, at 7 p.m. at the Saenger Theatre.
New Year's Eve Fireworks on Pensacola Beach
December 31
Watch a dazzling display of fireworks reflected in the waves along Pensacola Beach. The show takes place at 8 p.m. from the Pensacola Beach Boardwalk and is visible for miles up and down the island and from local hotels, restaurants and bars. It's the perfect place to welcome the New Year from a blanket on the sand or from your beach balcony.
In addition to the variety of festivals and cultural events listed above, seasonal bargains and travel incentives are plentiful in Pensacola and along Pensacola Beach during November and December. For a list of deals and specials, more information on holiday events, or to request a Visitor Guide, call Visit Pensacola at (800) 874-1234 or visit http://www.VisitPensacola.com.
##
About Visit Pensacola
Visit Pensacola leads the effort of economic development through tourism in Escambia County. Comprised of over 200-member businesses, Visit Pensacola's mission is to position the Pensacola Bay Area as a premier year-round travel destination through tourism marketing, communications, meetings and conventions, reunions and group tour initiatives. For more information about Visit Pensacola, call 1-800-874-1234 (toll-free) or go to VisitPensacola.com.
###