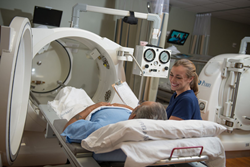 This accreditation demonstrates Florida Hospital Carrollwood's commitment to providing the highest quality of patient care at our Wound Healing Institute
TAMPA, FL (PRWEB) October 21, 2016
The Wound Healing Institute at Florida Hospital Carrollwood has been awarded accreditation with distinction by the Undersea and Hyperbaric Medical Society (UHMS), the leading authority in hyperbaric medicine. This accreditation is recognition that few hospitals and facilities have earned, and identifies the Institute as providing patients with advanced care.
The super oxygenation offered by hyperbaric treatments can help those with chronic non-healing wounds caused by diabetes, poor circulation, traumatic injury, radiation therapy and other causes.
In order to receive the UHMS accreditation, the Institute submitted to an inspection by expert evaluators who rated it on commitment to staffing and training, equipment installation, operation, maintenance, facility and patient safety and standards of care. More than 1,600 individual standards had to be successfully met to receive accreditation.
"This accreditation demonstrates Florida Hospital Carrollwood's commitment to providing the highest quality of patient care at our Wound Healing Institute," commented Dr. Ravindra Patel, Medical Director. "We are proud of our team members for achieving this significant milestone and of their commitment to their patients!"
About UHMS
The Undersea and Hyperbaric Medical Society (UHMS) was formed in 1967. It is an international nonprofit association serving some 2,000 physicians, scientists, associates and nurses from more than 50 countries in the fields of hyperbaric and dive medicine. The UHMS is an important source of scientific and medical information pertaining to hyperbaric medicine involving hyperbaric oxygen therapy and diving through its bimonthly, peer-reviewed journal, Undersea and Hyperbaric Medicine, symposia, workshops, books and other publications. It organizes an annual scientific meeting at different U.S. and international locations to permit review of the latest in research and treatment and to promote the highest standards of practice. For more information about the UHMS and why accreditation is important visit http://uhms.org.
About the Wound Healing Institute at Florida Hospital Carrollwood
For more than a decade, the Wound Healing Institute at Florida Hospital Carrollwood has been providing the most comprehensive and customized wound-healing programs in the community and have the largest number of board-certified physicians in hyperbaric therapy, certified wound-care physicians and nurses and hyperbaric technologists in the area. Our multidisciplinary approach to chronic wound care, including hyperbaric therapy, produces remarkable outcomes: 92 percent of our patients are healed within just 16 weeks. There are two convenient locations to serve the community in Tampa and in Brandon. The Tampa location is located at 6919 N. Dale Mabry Hwy, Suite 210 in Tampa, FL 33614 and the phone number is, (813) 558-4900. The Brandon office is located at at 205 S. Moon Avenue, Suite 106 in Brandon, FL 33511 and the phone number is, (813) 615-7100. For more information about the Florida Hospital Carrollwood Wound Healing Institute please visit http://fhcarrollwood.org.