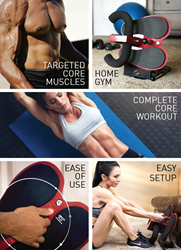 Ab Blaster allows you to target exact muscle groups in your core to maximize your workout time in the areas where you need it most.
Hillsdale, NJ (PRWEB) October 25, 2016
Developed to provide a complete in-home workout for those who are trying to tighten their abs and their entire core muscle groups, Ab Blaster is now available on Kickstarter.
"Ab Blaster allows you to target exact muscle groups in your core to maximize your workout time in the areas where you need it most," said Ab Blaster Founder and former personal trainer Dimitry Boss. "Too often, the promise of strong, sexy abs comes in the form of a big over-priced machine that needs its own parking spot in the garage – but Ab Blaster provides big results even with its small and effective design."
Boss says that while most people think of the abs as one big muscle, and that doing tons of sit-ups alone will sculpt their mid-section, 'the core' actually refers to a complex muscle system.
"With Ab Blaster, you can work those 'hidden' ab muscles and achieve a precise, targeted high-impact core workout that will enable you to perform better athletically, or just to tone up to make you feel better when you're moving around during your every day life," he said.
Small enough to be used in even a small studio apartment, Boss says Ab Blaster will "challenge your abs completely and conveniently" and is the first workout device designed to "completely target your core muscles."
Using an angular placement in 15-degree increments, the Ab Blaster takes the guesswork out of building a core workout into any person's exercise routine – allowing users to target abs 180 degrees from one oblique to the other and with the proper form.
The easy-to-use device has a base plate that slides under a door or piece of furniture, where the user then slides their feet into a shin pad to lock them in place. From there, the foot plate can be adjusted to the left or right up to 90 degrees on each side – with the user adjusting the setting throughout the workout.
Ab Blaster also comes with a set of workout demonstration videos to help people at different fitness levels achieve their exercise goals. Designed for both beginners or hardcore athletes, Ab Blaster can also serve as a great tool for people in recovery after an injury – or for women trying to tighten muscles and lose weight after pregnancy.
"I invented Ab Blaster back in college when I couldn't get the full core workout I wanted using conventional equipment," Boss said. "Crowdfunding offers the right vehicle to launch Ab Blaster, with a large potential market of people like me who are looking for a better core workout at an affordable price."
Ab Blaster is available at the super early bird price of $89 during its crowdfunding campaign. For more information, visit the Ab Blaster on Kickstarter.