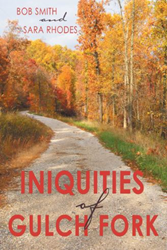 Fayettville, Ark. (PRWEB) October 24, 2016
Vietnam veteran Bob Smith and certified nursing assistant Sara Rhodes have released their debut novel, "Iniquities of Gulch Fork." The book presents a small-town Arkansas tale of a veteran, his caretaker and their journey to overcoming the impacts of PTSD and addiction as well as a crooked gang of local criminals who take advantage of the elderly and disabled.
In the story, Samantha Caminos provides home health care for disabled veteran Rob Dean. A series of fraud concerns from a trio of local veterans, including Rob, leads Samantha to investigate, ultimately revealing a crooked community scheme targeting the elderly and disabled.
"This has been an opportunity for me to take the injustices I've faced in my own life and turn them into something good," co-author Bob Smith said. "Writing the book has turned into the providential salt and pepper which has seasoned our lives positively."
"… the story will likely strike a chord with Vietnam vets, who will empathize with Rob's plight," a reviewer wrote.
The novel also focuses on the process of coping with the impacts of PTSD and addiction as well as the beneficial nature of using support animals during the healing process.
Smith and Rhodes have crafted a novel that offers a deep dive into the issues faced by veterans in modern-day society and also provokes a strong message about the inspiring nature of forgiveness.
"Iniquities of Gulch Fork"
By Bob Smith and Sara Rhodes
ISBN: 978-1-4917-9341-1 (paperback); 978-1-4917-9342-8 (electronic)
Available at the iUniverse Online Bookstore, Barnes & Noble and Amazon
About the author
Bob Smith, a retired naval officer-turned writer, served in the Vietnam War and, as a result, suffers from post-traumatic stress disorder as well as Agent Orange-caused neuropathy. He settled in northwest Arkansas after living in Spain for several years. Sara Rhodes is a wife, mother and certified nursing assistant who lived in Alaska before moving to the Ozarks. Additionally, she is the daughter of a veteran. Both reside in Madison County, Arkansas, in which the fictional town of Gulch Fork is based.
###
Review Copies & Interview Requests:
LAVIDGE – Phoenix
Danielle Grobmeier
480-998-2600 x 614
dgrobmeier(at)lavidge(dot)com
General Inquiries:
LAVIDGE – Phoenix
Kalin Batts
480-998-2600 x 524
kbatts(at)lavidge(dot)com