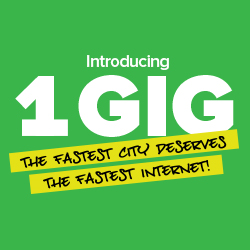 1 Gigabit is a giant leap forward in Internet technology and RCN is the first provider to offer this new service at an affordable price to residents of New York City
(PRWEB) October 26, 2016
RCN, an award-winning provider of high-speed internet, digital TV and phone services, has announced the immediate availability of 1 Gigabit internet speeds to New York City residents in each of its serviceable areas, including Manhattan, Brooklyn and Queens. With no contracts, easy installation and affordable pricing; it will be quick and simple to access a new generation of fast internet speeds in RCN residential serviceable areas in New York City. By offering 1 Gigabit internet speeds RCN is again redefining the fastest and most cost-effective advanced Internet services.
1 Gigabit internet is a revolutionary new level of speed with the power to transform the way users surf, stream, download, work and game online, like never before. The average home now has 7.8 internet connected devices, all competing for speed. 1 Gigabit provides more total bandwidth to the home, resulting in better performance. With download speeds of 1,000 Mbps, users can download a two-hour movie in seconds and operate multiple devices simultaneously with ease.
New network technology DOCSIS 3.1 makes it possible for RCN residential customers to receive Gigabit speeds through the same wiring they already have in their homes.
"1 Gigabit is a giant leap forward in Internet technology and RCN is the first provider to offer this new service at an affordable price to residents of New York City," said Bruce Abbott, VP, and General Manager of RCN New York. "1 Gigabit internet provides a high-performance connection that delivers unrivalled value on a platform designed to expand as our customers' needs continue to grow. RCN is committed to staying at the forefront of innovation by continuing to offer the fastest internet speeds, increased reliability and the best experience for our customers."
RCN's Gigabit internet residential service is now available to new customers with pricing starting at just $69.99/month for 12 months. The affordable packages require no contracts. Those interested in signing up for 1 Gigabit internet service can do so by calling 1-800-RING-RCN or by visiting rcn.com.
About RCN Corporation
RCN Telecom Services, LLC (rcn.com and rcn.com/business) provides industry-leading high-speed internet, all-digital TV and phone services for residential, small/medium and Enterprise business customers. PC Magazine's Readers' Choice Award named RCN one of the winners for best ISPs in 2013, 2015 and 2016 – RCN was rated highest in overall satisfaction. RCN is YouTube HD Verified, earning the company the highest-ranking that Google offers. RCN is also a Netflix Open Connect partner, placing in the Top rankings on the Netflix USA ISP Speed Index in the markets RCN serves. RCN's affordably priced advanced digital services are delivered through its proprietary, state-of-the-art fiber-rich network and supported by 100% U.S.-based customer service. RCN's primary service areas include Boston, Chicago, Lehigh Valley (PA), New York City, Philadelphia (Delaware County) and Washington, DC.
RCN Media Contact:
Jackie Fraser, Matter Communications
Matter Communications
Tel: 978.358.5840
rcn(at)matternow.com