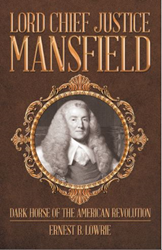 NEW HAVEN, Conn. (PRWEB) October 24, 2016
A New Haven-area author and Yale alumnus has released a historical account of the life of Lord Chief Justice Mansfield, which documents Lord Mansfield's critical role in one of U.S. history's most crucial events – the American Revolutionary War.
Ernest B. Lowrie stumbled upon Lord Mansfield while he was studying another topic entirely. He swiftly learned of the important influence the British barrister, politician and judge had on the conflict between Great Britain and the American colonies during the mid-1700s. His book, "Lord Chief Justice Mansfield" unravels Lord Mansfield's ultimate causation of the American Revolution.
"This narrative alone provides a convincing case that Mansfield was involved deeply in all aspects of Great Britain's decision to wage war against America," Lowrie said. "The American Revolution can never be understood without appreciating the influence of Lord Chief Justice Mansfield."
The book offers a well-researched account of the little-known dark horse of the Revolutionary War, contradicting oceans of books and papers on the causes of the conflict.
Readers will find Lowrie's historical analysis through the lens of an influential British judge to be informative, compelling and unique.
"Lord Chief Justice Mansfield"
By Ernest B. Lowrie
ISBN: 978-1-4808-2852-0 (hardback); 978-1-4808-2851-3 (paperback); 978-1-4808-2853-7 (electronic)
Available at the Archway Publishing Online Bookstore, Barnes & Noble and Amazon
About the author
Ernest B. Lowrie, a retired university professor, received his Ph.D from Yale and is also the author of "The Shape of the Puritan Mind: The Thought of Samuel Willard." Lowrie currently resides in Portland, Connecticut. To learn more, please visit his website http://www.lordchiefjusticemansfield.com.
###
Review Copies & Interview Requests:
LAVIDGE – Phoenix
Danielle Grobmeier
480-998-2600 x 614
dgrobmeier(at)lavidge(dot)com
General Inquiries:
LAVIDGE – Phoenix
Kalin Batts
480-998-2600 x 524
kbatts(at)lavidge(dot)com