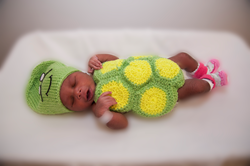 Pittsburgh, PA (PRWEB) October 21, 2016
What: In the last year, Allegheny Health Network (AHN) delivered more than 6,500 babies at its maternity facilities throughout western Pennsylvania. To celebrate these special deliveries, a spectacular flock of 2,500 manmade storks will greet visitors at the Pittsburgh Zoo & PPG Aquarium this month. Visitors at ZooBoo will have an opportunity to sign a stork with their baby's name, take a picture with it, and then post the photo on social media to receive a free onesie from AHN.
Who: The storks represent Living Proof of the many babies delivered in the last year at AHN's Forbes Hospital, Jefferson Hospital, Saint Vincent Hospital and West Penn Hospital. Throughout ZooBoo, AHN women's health team members will be available to answer questions on services offered at AHN facilities, including obstetrics and gynecology, well-woman care, women's behavioral health and breast care.
West Penn Hospital babies dressed in animal costumes in celebration of Halloween and the opening of ZooBoo.
When: 10 a.m.-3 p.m., Saturday, Oct. 22, Sunday, Oct. 23, Saturday, Oct. 29, Sunday Oct. 30.
Where: Pittsburgh Zoo & PPG Aquarium Entrance, 7340 Butler St., Pittsburgh PA 15206
Why: Allegheny Health Network is rated among the top six percent nationally for quality women's health care, according to Comparion® Medical Analytics, 2016 National Quality Rating Database. The more than 6,500 babies delivered at AHN hospitals within the last year are living proof that families trust AHN's expertise in maternity care.
Contact:
Stephanie Waite
412.337.5484
Stephanie(dot)Waite(at)highmarkhealth(dot)org