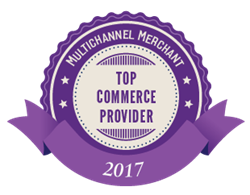 Shawn Ellen, Dir. of Sales Operations, said, "15 years ago the direct commerce mid-market was dominated by Ecometry & CommercialWare. Continuous acquisitions by large corporations like Oracle & JDA swallowed those companies, leaving the mid-market open"
Delray Beach, Florida (PRWEB) October 25, 2016
Ability Commerce has been named a Multichannel Merchant Top Commerce Platform for 2017, part of a list of leading commerce platform providers, selected by the editors of Multichannel Merchant.
"With the number of commerce platforms growing, Multichannel Merchant felt it was important to designate commerce platforms qualified and experienced," said Tim Parry, the Managing Editor of Multichannel Merchant. "This online resource is a searchable database/directory for merchants looking to find the right expert commerce fulfillment providers for their needs."
Shawn Ellen, Director of Sales Operations, said, "15 years ago, the direct commerce software mid-market industry was mostly dominated by Ecometry and CommercialWare. However, over the last 10 years, the continuous mergers and acquisitions by large corporations like Oracle and JDA have swallowed up those companies, leaving the mid-market open for new leaders like Ability Commerce. This list is crucial in helping growing retailers find us, as they search for whom will best help them succeed".
About Multichannel Merchant
Multichannel Merchant connects sellers of merchandise direct to customer across multiple channels. We provide the insights, best practices and community they need to optimize their customer experiences through improved marketing, ecommerce and operations.
About Ability Commerce
For over 20 years, Ability Commerce has empowered ecommerce and catalog retailers to achieve success by providing them with scalable, flexible and affordable solutions to better manage inventory, orders, fulfillment and warehouse operations, as well as provide online and catalog customers with an exceptional user experience. In addition to Ability's cutting edge direct commerce enterprise platforms, our services including merchandising & marketing, technical & business and contact center, help retailers sell more products to more customers through multiple sales channels. Ability Commerce is recognized as a leader in the industry and recently named to the Internet Retailer's 2017 Leading Vendors of the Top 1,000 E-Retail Clients. The Ability Order Management System is certified as compliant under PA-DSS v3.1 and FCBCO Validated. Our solutions enable mid-market companies to acquire, convert and retain customers more efficiently.
For additional information, contact:
Ability Commerce
1300 Park of Commerce Blvd., Suite 200
Delray Beach, FL 33445
561.330.3151