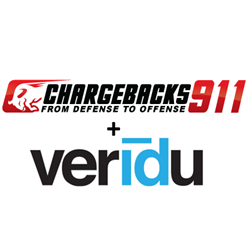 We have looked at dozens of similar investments over the last couple years and are very impressed with Veridu's technology, leadership, and composition. - Gary Cardone, co-founder and CEO
Tampa, Florida (PRWEB) October 24, 2016
Chargebacks911, a Global Risk Technologies company, is pleased to announce their latest investment with industry innovator, Veridu. This London-based company helps online merchants authenticate consumer identity through social media platforms.
Chargebacks911 is pleased to come alongside other industry investors, such as payments giant Worldpay, to support global expansion and enrich authentication intelligence. Veridu's cutting-edge technology will perfectly complement Chargebacks911's current strategies to ensure standardization and compliance throughout the eCommerce ecosphere.
Gary Cardone, president and CEO of Chargebacks911 comments: "The payments industry is extremely dynamic and constantly evolving. Staying competitive means capitalizing on innovative and emerging technologies that help online merchants achieve global scale and scope. We believe this technology will become a crucial element of success for eCommerce merchants. Coupled with Chargebacks911's ongoing efforts, the addition of this technology will provide an unparalleled agile platform, uniquely suited to mitigate online fraud."
Cardone continued: "Merchants can no longer create strategies to manage risk without taking into consideration the adverse effect that plan could have on revenues. This joint intelligence between Veridu and Chargebacks911 will address both requirements with the least amount of friction for the user."
Rasmus Groth, CEO and founder at Veridu, adds: "The investment from Global Risk Technologies is testament to the advanced machine-learning technology we have succeeded in developing at Veridu over the past couple of years. With this, we're able to identify and stop fraud, limiting chargebacks and saving vital revenue at a time of tight profit margins. Besides the investment, we very much look forward to working with the U.S. market through Chargebacks911. This will give us a head start into the North American market."
Official details regarding Chargebacks911's recent investment are slated for release at the upcoming Money 20/20 event, which will take place in Las Vegas October 23-26, 2016.
About Chargebacks911 and Global Risk Technologies:
Chargebacks911 offers the industry's most advanced solutions for mitigating fraud and chargeback risk. The company, headquartered in the Tampa Bay area, creates industry-defining proprietary solutions for card-not-present chargeback remediation. Chargebacks911 was distinguished in both 2014 and 2015 as one of the fastest-growing companies in the U.S. and was named Customer's Choice Best Chargeback Management Program in 2016.
Chargebacks911 is a subsidiary of the Dublin, Ireland-based Global Risk Technologies. Together, these organizations provide the most comprehensive and scalable solutions for fraud prevention and chargeback mitigation.
chargebacks911.com / globalrisktechnologies.com
About Veridu:
Veridu is the most accurate, reliable and trustworthy tool to quickly and efficiently verify the identity of users in order to eliminate fraud and unwanted user behavior. Veridu provides both Single Sign On plugins and more comprehensive authentication tools to give the highest level of protection, with the simplest possible process for both businesses and end users. Founded in 2014 in Copenhagen, Veridu is now headquartered in London.