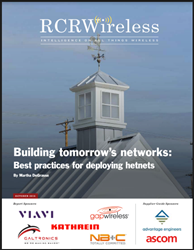 Literally a measurement of a foot or two can make a difference in these networks - AT&T
Austin, Texas (PRWEB) October 25, 2016
When will 5G networks become widely available? The answer may depend on how local city governments interact with the wireless industry. RCR Wireless News spoke with city planners, carrier executives, and numerous infrastructure providers about best practices for deploying small cells, because these are seen as foundational building blocks of 5G networks.
RCR Wireless News' latest report, entitled "Building Tomorrow's Networks: Best Practices for Deploying Hetnets.", Verizon Wireless, AT&T and T-Mobile US all shared updates on their progress and outlook for heterogeneous network/small cell deployments. AT&T also shared information about how it plans and executes deployments on the webinar that accompanies this report. Other companies that contributed to this report and webinar include analyst firms Wireless 20/20 and EJL Wireless Research, as well as vendors Galtronics, Gap Wireless, Kathrein, KMM, Mobilitie, Nexius, Stealth Concealment, Sabre Industries and Viavi Solutions.
The report summarizes carrier progress to date with small cells, and outlines best practices for site acquisition, permitting, designing and testing small cell networks. Infrastructure service providers and city communications officials explain what has worked best as carriers try to secure affordable access to the public rights of way.
"The jurisdictions we've talked to are very eager to cooperate with the industry to promote wireless infrastructure for their cities," said report author Martha DeGrasse. "But they have to consider fair use, public safety, and aesthetics, on behalf of the citizens they serve."
Download this report to learn:
● Why small cells will be critical for 5G networks
● How U.S. carrier approaches to urban small cells differ from one another
● The steps in the site acquisition process
● Key concerns and priorities expressed by jurisdictions
● The role of third party infrastructure providers
● How equipment choices and concealment can impact outcomes
● How software can help operators design, validate and optimize small cell networks
Watch the complimentary editorial webinar featuring:
● Paula Doublin, AVP Antenna Solutions, AT&T
● Randall Schwartz, Founder and Principal Consultant, Wireless 20/20
● Tony Perez, Immediate Past President, National Association of Telecommunications Officers and Advisors
● Kashif Hussain, Go-to-Market Leader, Wireless Mobility, Viavi Solutions
● Robert Booth, VP Infrastructure, Galtronics
● Martha DeGrasse, Editor, RCR Wireless News
"The way that we're going to have to engineer as we build out deeply dense networks is going to change," said AT&T's Paula Doublin during the webinar. "It's got to become much faster." Doublin also said securing access to the right spot for a small cell can make all the difference. "Literally a measurement of a foot or two can make a difference in these networks."
About RCR Wireless News
Since 1982, RCR Wireless News has been providing wireless and mobile industry news, insights, and analysis to industry and enterprise professionals, decision makers, policy makers, analysts and investors. Our mission is to connect, globally and locally, mobile technology professionals and companies online, in person, and now on video. Our dedication to editorial excellence coupled with one of the industry's most comprehensive industry databases and digital networks leads readers and advertisers to consistently choose RCR Wireless News over other industry publications. http://www.rcrwireless.com