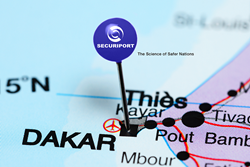 Washington, DC (PRWEB) October 24, 2016
According to recent media reports in Dakar, Senegal, a French national, wanted for the abduction of two children and subject to an international arrest warrant issued by Interpol, was intercepted and detained at the airport in Dakar.
According to the posted media reports, the suspect was charged and placed in custody at Rebeuss Jail, and was awaiting ruling from the Dakar Court of Appeal on an extradition request made by his country of origin. The report further stated that the French national who arrived in Dakar was automatically identified and reported by Securiport's Integrated Immigration Control System, which is linked with Interpol Watch-List databases.
In the past year, Securiport has successfully engaged its sophisticated systems; helping Senegalese Security Authorities arrest two radicalized extremists. These individuals were detained at the same Senegalese airport as the French citizen in the latest incident.
Securiport's unique proactive Watch-List Database Management Solution is specifically designed to help local security authorities efficiently detect suspected individuals who are attempting to enter or leave a country. It is just one of many proprietary tools provided with Securiport's Integrated Immigration Control System, a comprehensive immigration processing system that utilizes patented ultrasonic biometric technologies for traveler identification and enhances security through the use of advanced data analytics. It has been successfully deployed and effectively used in several major African nations such as Senegal, Equatorial Guinea, Sierra Leone, and Ivory Coast.
Securiport's IICS allows authorities to create and maintain Wanted-Persons Records, which include demographic and biometric features. Data can be imported from any government database. Real-time identification checks are performed on every passenger. The Securiport system then alerts immigration and security officials on possible watch-list hits by issuing a veiled alarm.
For more details about the Senegal story, please visit the original media report at http://www.leral.net/Arrestation-a-l-aeroport-Lss-d-un-Francais-recherche-par-Interpol-Une-rocambolesque-affaire-d-enlevement-d-enfants-entre_a181104.html
For more information about Securiport's Integrated Immigration Control System (IICS), visit http://www.securiport.com/solutions/integrated-immigration-control-system.
About Securiport
Securiport LLC is a global leader in the design and implementation of civil aviation security, passenger biometric recognition, immigration processing, and intelligent information management and reporting software systems. With headquarters in Washington, DC, USA, Securiport partners with governments around the world. Securiport's Civil Aviation and Immigration Security Services, a comprehensive security product that performs secure biometric recognition of travelers at immigration posts, provides proprietary intelligent information for the identification of potential security risks, criminal activity, and disease prevention based on the comparison and multi-dimensional analysis of the biometric data and traveler information collected during immigration processing. Learn more at http://www.Securiport.com.