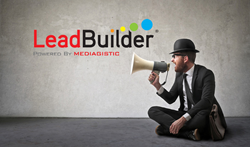 This holistic approach generates a large number of high-quality leads to help residential contractors grow their businesses.
Tampa, Florida (PRWEB) October 24, 2016
Today, Mediagistic announced the nationwide release of LeadBuilder® v10, the latest update of the internet marketing package for home services clients, including HVAC, plumbing, roofing, and electrical companies.
Home Services Marketing Done Right
LeadBuilder® is a premier Home Services online marketing and lead-gen program that boasts big returns on ad spend (ROAS) by "doing it right" and focusing on local consumer search behavior. Starting with a professionally designed, mobile-responsive website, LeadBuilder leverages a combination of paid search, local SEO, social media, dynamic content, and inbound marketing to achieve maximum online performance.
As a robust, holistic internet marketing program, it's designed to ensure visibility and the industry's lowest cost per lead through all major digital marketing channels.
New to Version 10
The new version of LeadBuilder® comes with a host of improvements, informed by current digital trends, for an even more effective turn-key marketing approach. Among its many new features, v10 places more emphasis on mobile search and apps as well as local SEO and reviews.
These elements are crucial in the home services business, where geography and local search results heavily influence consumers' decisions. LeadBuilder® v10 also offers clients improved visibility into where their marketing money goes with the new Business Center reporting capabilities. The list of new, versatile addons includes:

Enhanced mobile ad syndication and Youtube pre-roll ads
Accelerated social media advertising solutions
Conversion marketing and cross-channel retargeting options
Custom web video content (with studio-recorded voiceovers)
ActiveResponse online reputation monitoring and management
Review management solutions including ReputationBuilder, ReviewBuzz and Podium
Mobile applications
Capturing High-Intent Leads
The driving principle behind LeadBuilder® v10 is that, in the HVAC and home services market, a company's marketing mix must cover all the major digital marketing disciplines. Through conversion marketing and cross-channel retargeting, LeadBuilder® capitalizes on search to capture the prospects with the highest intent.
This holistic approach generates a large number of high-quality leads to help residential contractors grow their businesses. As a result, LeadBuilder® offers the lowest cost per lead and the best return on ad spend (ROAS) of any provider in the industry. Learn more about LeadBuilder® v10
About Mediagistic
As the nation's largest local advertising firm, Mediagistic is a top 200 agency and one of the nation's largest, employing talented individuals with offices in Tampa and Miami. Mediagistic is a proven leader in providing end-to-end marketing and advertising services to local, regional, and national businesses. The agency has an impeccable track record of creating proven results for distributors and brands across a variety of industries.