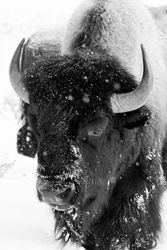 The winter season in Yellowstone offers a rare opportunity for a more intimate experience.
Jackson Hole, Wyoming (PRWEB) October 24, 2016
With winter's arrival in Yellowstone, the park roads close to the public and only a special few can witness the park's transformation to enchanted snow-covered wonderland where wildlife outnumbers people. A guided snowcoach safari with Wildlife Expeditions of Teton Science Schools, Jackson Hole's premier and original safari provider, offers the ultimate winter Yellowstone experience.
Wildlife Expedition guests travel in small groups with trained guides, spotting a rich variety of animals while gaining a deeper understanding of the wildlife, habitat and conservation issues. Wildlife Expeditions' tours of the winter landscape open for the season Dec. 15, 2016, and continue through March 15, 2017.
Wildlife Expeditions' full-day Old Faithful Winter Expedition provides a unique perspective on Yellowstone's geothermal features in a dramatic winter landscape. Experienced guides share the thermal features of Old Faithful, Upper Geyser Basin and West Thumb Geyser Basin. Rates for the day trips are $375/participant, or the expedition can be privately arranged for $2,625.
The Grand Canyon Winter Expedition, also a full-day tour, brings guests to the dramatic Grand Canyon of the Yellowstone River and its massive Upper and Lower Yellowstone Falls – often encased in an icy veil. White snow covers the colorful canyon walls for a sight unique to winter tours, and the expedition also visits the Hayden Valley, Mud Volcano and West Thumb Geyser Basin. Rates are $400/participant or privately arranged for $2,800.
Guests of the Wildlife Expeditions' Yellowstone winter safaris may spot wildlife including elk, moose, bison, bighorn sheep, coyotes, wolves, trumpeter swans and eagles. Travel for the safari starts in Jackson, Wyo., in wheeled vehicles. Guests switch to custom-designed Mercedes-Benz Sprinter snowcoaches at Flagg Ranch just south of Yellowstone.
Snowcoaches are designed with rubberized Mattracks® for extraordinary traction to comfortably navigate Yellowstone's snow-packed roads.
Safari guests enjoy breakfast and lunch, as well as high-quality optics, Yaktrax traction devices and walking poles (National Park entrance fees and gratuity not included). Chartered multi-day expeditions, or customized winter expeditions to provide Nordic skiing, snowshoeing, photography and wildlife viewing, are also available starting from $1,425 per snowcoach/day.
About Wildlife Expeditions of Teton Science Schools:
Wildlife Expeditions of Teton Science Schools has a well-earned reputation of leading exceptional safari tours and locating wild animals in the areas in and around Yellowstone and Grand Teton National Parks. As Jackson Hole, Wyoming's premier and original safari provider, Wildlife Expeditions offers family-friendly educational tours year-round in a stunning natural environment. The tour company has been recognized by national media including Conde Nast Traveler and USA Today's "10 Amazing Adventures under $1,000." Teton Science Schools is an authorized concessioner of the National Park Service, providing snowcoach tours, ski and snowshoe trips, photography and chartered programs in Yellowstone National Park. For more information or to book a Wildlife Expeditions tour, visit http://www.tetonscience.org.
Contact: Amy Stark, Word PR + Marketing, amy(at)wordprmarketing(dot)com, 307.734.5335