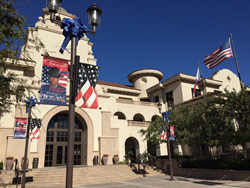 Temecula Valley, CA (PRWEB) October 26, 2016
Heroes Program Hotel Discounts
The Quality Inn Temecula Valley Wine Country and Springhills Suites Temecula Valley Wine Country are currently offering Military and 1st Responders a discount on Sunday-Thursday night stays.
Heroes Program Restaurant Discounts
A wide variety of Temecula Valley Restaurants are participating in the Heroes Program, offering dining and meal discounts for nearly every type of fare including casual dining, artisan eats, Mexican food, and more. Participating restaurants include Annie's Café, Bahama Bucks, The Bank- Mexican Restaurant and Bar, E.A.T Marketplace, Great Harvest Bread Company, Heart of the House, Lienzo Charro Grill, and Red Robin.
Heroes Program Merchant & Activities Discounts
Temecula Valley features a great variety of shopping experiences, local, artisan goods, and everyday deals. Military and First Responders will find shopping deals at several locations including Old Town Sweet Shop, Old Town Spice & Tea Merchants, Temecula Olive Oil Company, Temecula Lavender Company, and Visit Temecula Valley's Visitor Center. Each offers unique goods and made in Temecula products.
Heroes hoping to jump into some active adventure have plenty of discount opportunities to enjoy. Participants include California Dreamin' Balloon Adventures, A Grape Escape Balloon Adventure, The California Parks Company (with discounts and free camping opportunities), and the Murrieta Day Spa for post-adventure pampering.
Heroes Program Winery & Transportation Discounts
Known for its wineries, tasting tours, and vineyards, there is no shortage of discount opportunities for military and first responders in Temecula Valley Wine Country. Wineries participating in the discount program include: Avensole Winery, Falkner Winer, Fazeli Cellars, Lorimar Loft (Old Town Tasting Room), Lorimar Winery, Lumiere Winery, Oak Mountain Winery, Palumbo Family Vineyard & Winery, Robert Renzoni Vineyards & Winery, Thornton Winery, Wiens Family Cellars, and Wilson Creek Winery.
Wine Country tours are a great way to experience wine country. The Heroes program extends discounts with the Temecula Carriage Company, Grapeline Wine Tours, Temecula Winery Transportation, and Vineyard Coast Transportation.
Up to Date Information
For complete details on the program, specific discounts offered, as well as exclusions and restrictions, visit the Heroes Program website at VisitTemeculaValley.com [http://www.visittemeculavalley.com/visitors/heroes-program/wineries/ __title__ Temecula Valley Heroes Program].
Temecula Valley Hero Events for Veteran's Day 2016
In addition to the Heroes Program, don't miss these great Veteran's Day offerings in Temecula Valley Wine Country.
The City of Temecula will hold its annual Patriotic Salute to Veterans on Friday, November 11th, 2016. The free, community event will feature remarks by City dignitaries, the presentation of military banners to recognized active military personnel from the City's Military Banner Program, and a performance by the Temecula Valley Symphony under the stars, featuring John Mario, Music Director and Conductor, and guest vocalists Heather Lundstedt O'Neill and Jonathan Hawkins.
Throughout the week of Veteran's Day, the Temecula Valley Museum will feature a lobby display dedicated to military history.
About Visit Temecula Valley
With natural gifts of climate and geography Temecula Valley is recognized for scenic vineyards, award-winning wines, and gracious, friendly wineries as Temecula Valley Southern California Wine Country. The popular boutique friendly destination includes the Temecula Valley A.V.A. (American Viticulture Area) as well as Downtown Old Town Temecula, Pechanga Resort & Casino, and the Temecula Wine Country Golf Trail.
Visit Temecula Valley is the region's official tourism marketing organization and an online resource for visitors at VisitTemeculaValley.com. Temecula Valley Visitors Center is located in Old Town Temecula (Third Street and Mercedes). For visitor information and assistance, call 888/363-2852 or 951/491-6085.
*Information is believed to be current as of October 2016.
###