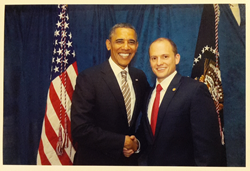 President Barack Obama has formally endorsed Mr. Rodríguez's campaign for the Florida Senate
(PRWEB) October 21, 2016
José Javier Rodríguez, a Florida Representative and trial attorney at Fort Lauderdale personal injury law firm Kelley/Uustal, is campaigning for State Senate District 37 in the upcoming November election. Kelley/Uustal is humbled to announce that President Barack Obama has formally endorsed Mr. Rodríguez's campaign for the Florida Senate.
In a message to the firm, Mr. Rodríguez stated that he is deeply humbled and truly grateful that the 44th President of the United States has formally endorsed his campaign for the Florida Senate. President Barack Obama has been a forceful advocate for everyday people. He has led the country in, among other things, responding to long-term needs in education, energy and climate change. "It is to continue my work on those very same priorities here in Florida that the President asks for your support as I seek to serve in the Florida Senate," stated Rodríguez.
Early voting starts Monday at 7:00 a.m. and runs for two weeks until 7:00 p.m. on Sunday, Nov. 6th. Here is a link to the early voting schedule."
Mr. Rodríguez is committed to ensuring a brighter future for Miami. Should he be entrusted with the privilege of being a Florida Senator, he will accomplish this goal by advocating for struggling homeowners and small businesses, working for more good jobs that pay a fair wage, and ensuring that better schools are a priority. As a member of the Florida House of Representatives, he has already had success fighting for tax relief for homeowners, advocating for working families, and championing reforms aimed at ensuring that taxpayer money is wisely spent.
Please visit http://www.jjr2016.com to learn more about José Javier Rodríguez's campaign for State Senate District 37. Further information on Kelley/Uustal can be found at http://www.justiceforall.com.