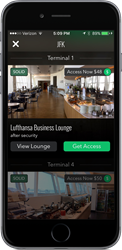 San Francisco, CA (PRWEB) October 25, 2016
LoungeBuddy, the only single resource for travelers to discover, book, and access airport lounges around the world, and Lufthansa Group, one of the world's largest and most prestigious airlines, today announced a new partnership, allowing all travelers the ability to book access to select locations in the Lufthansa lounge network directly through the LoungeBuddy service.
"Lufthansa has a long-standing reputation and commitment to embracing innovation. We are honored to be chosen as a preferred partner, providing us with the ability to offer select Lufthansa lounges to LoungeBuddy's growing global customer base," said LoungeBuddy founder and CEO, Tyler Dikman.
Lufthansa boasts an extensive network of branded lounges around the world, including the Lufthansa First Class Lounge, Lufthansa Senator Lounge, Lufthansa Business Lounge, and Lufthansa Welcome Lounge. Each of the offerings provides a unique experience that matches Lufthansa's world-class reputation for exclusive comfort and exceptional service. Lufthansa lounges afford a host of premium amenities that appeal to business and leisure travelers alike, including complimentary hot and cold dining options, fully-tended bars featuring a wide selection of premium alcoholic and non-alcoholic beverages, fast unlimited Wi-Fi, daily newspapers and magazines, modern shower facilities, and more.
"We're proud to partner with LoungeBuddy to offer travelers the opportunity to upgrade their airport experience with our premium lounge offerings. LoungeBuddy's industry leading lounge management platform and focus on creating a seamless experience for their customers pairs perfectly with our focus on delivering a premium travel experience," said Dr Bjoern Becker, Senior Director Product Management, Lounges and Digital Services of Lufthansa Group.
Travelers from around the world will now be able to book access to select Lufthansa lounges, including Lufthansa Business Lounges in Detroit Metropolitan Airport (DTW), Washington Dulles International Airport (IAD), and John F. Kennedy International Airport (JFK) through the LoungeBuddy Mobile App, LoungeBuddy.com, as well as a wide network of partners, including TripIt and TripCase.
About LoungeBuddy
LoungeBuddy is the only single resource for travelers to discover, book, and access airport lounges globally. Hundreds of thousands of travelers around the world use the Loungebuddy data and booking platform to find and book their perfect airport oasis and improve their travel experience. LoungeBuddy's unique data offering covers over 2,900 airport lounges in more than 900 airports worldwide. The free to download LoungeBuddy App is available on iOS and Android. To learn more about LoungeBuddy, visit http://www.loungebuddy.com/. LoungeBuddy lounge partners are able to take advantage of LoungeBuddy's industry-leading, proprietary real-time Lounge Management System to offer their excess capacity to travelers interested in upgrading their airport experience.
About Lufthansa
One of the world's largest and most prestigious airlines, Lufthansa, serving 22 North American gateways, currently flies to 203 destinations in 74 countries. The air carrier offers hubs in Frankfurt and Munich. With the Lufthansa Group acquisition of Austrian Airlines, SWISS and a stake in Brussels Airlines, additional hubs include Vienna, Brussels, and Zurich. The entire Group flew a total of 108 million passengers in 2015. In 2016's summer schedule the Group airlines offer more than 11,500 weekly frequencies to 301 destinations in 100 countries worldwide. As an industry innovator, Lufthansa has long been committed to environmental care and sustainability, operating one of the most technologically-advanced and fuel-efficient fleets in the world. Its long-haul fleet to and from North America includes the Boeing 747-8 and the Airbus A380— the industries' two most environmentally-friendly passenger aircraft. Lufthansa is the largest European operator of the A380 and was also the launch customer for the Boeing 747-8. The Lufthansa Group currently has 251 new aircraft on order to be delivered by 2025. This year alone the Lufthansa Group will take delivery of 52 new aircraft, including two new types – the Airbus A320neo and the A350 – for Lufthansa alone. Known for its premium services, Lufthansa continues to build new or upgrade existing lounge facilities across its worldwide network. Lufthansa's entire long-haul fleet now features all new onboard products in each class– bringing Lufthansa one step closer to becoming the first five-star airline in the Western Hemisphere. Additionally, the entire Lufthansa long-haul fleet is equipped with its onboard broadband wireless Internet service, FlyNet. For more information or reservations, visit LH.com.
MEDIA CONTACTS:
Brent Griffith
VP Marketing, LoungeBuddy
Email: brent(at)loungebuddy(dot)com