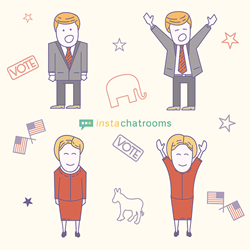 We monitored the political chat room between the first and final presidential debates and found that Donald Trump is far more supported and talked about than Hillary Clinton
Beverly Hills, CA (PRWEB) November 02, 2016
While numerous polls conducted across the country show Hillary Clinton as the forerunner in the race to become the next president of the United States, data gathered from the political chat rooms of popular online chat service, Instachatrooms, shows that Donald Trump is by far the more popular candidate. Polls conducted online, in person, and over the telephone have been mistaken an alarming number of times over the last couple of years with voters changing their minds at the last minute, providing false information under pressure, or simply not being among the small percentage of people who actually participate in polls.
However, gathering data from a non-pressurized and open source, such as Instachatrooms, where people choose to actively talk about their loyalty to one candidate or another can be a much more accurate representation of general public opinion. From data gathered between the first presidential debate on September 26th and the final presidential debate on October 19th, Instachatrooms has experienced a far greater number of Donald Trump supporters using the political chat room than Hillary Clinton supporters. The data shows that 45% of users during this period actively supported Trump and defended his policies, while only 39% of users actively supported Hillary Clinton.
"Due to the extremely unpredictable nature of this US presidential election, we thought it would be interesting to gather data about how our users felt about both candidates", said Instachatrooms CEO, Allen Fox, "We monitored the political chat room between the first and final presidential debates and found that Donald Trump is far more supported and talked about than Hillary Clinton."
An interesting part of the data gathered is the behavior of Trump supporters while using the chat rooms. Users who support Trump tend to spend longer periods of time in the chat than supporters of Hillary Clinton and also spend the majority of their time defending comments made by their candidate as opposed to Clinton supporters who prefer to change the subject and highlight Trump's faults rather than discuss the shortcomings of their chosen candidate. The data from Insatchatrooms does add fuel to the belief of Trump that there is a bias in the media and his non-belief in polls and their accuracy.
About Instachatrooms
Instachatrooms is an open-minded chat room service which provides a platform for people to connect with strangers, seek support and help, and discuss everything from sports to politics. The service offers a variety of free chat rooms where users can chat in a main lobby with hundreds of other users or private chat with individual users using a unique nickname. The service also includes webcam chat, customization of fonts and text, and user avatars.